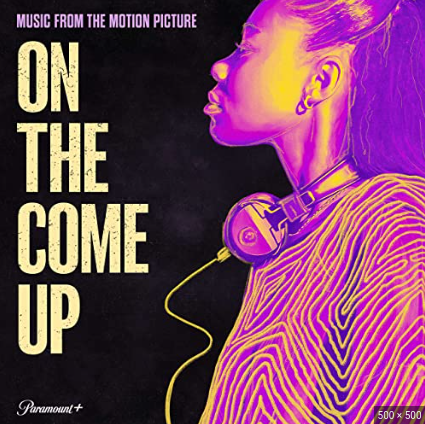 Image courtesy of Film Music Reporter.
On The Come Up: Book vs. Movie
The On the Come Up movie can't measure up to Angie Thomas's original novel.
December 19, 2022
*THIS REVIEW WILL CONTAIN SPOILERS*
In my opinion, the book is always better than the movie. And Angie Thomas's novel "On the Come Up" is no exception. It's one of the most entertaining and moving books I have ever read, as are her other novels. Thomas's realistic writing style and multi-dimensional characters make it so that her works are more like experiences than books.
Naturally, I was elated when I heard that there would be an "On the Come Up" movie. As an avid Angie Thomas fan and a movie lover in general, I looked forward to seeing the film with great anticipation, but I was ultimately disappointed by what I saw. 
"On the Come Up" is a vivid and passionate novel that focuses on Brianna Jackson, a sixteen-year-old rapper with a dream to make it big and help her family in the process. Her dad was shot and killed by a gang called the Crowns when she was only four – and her mother, who struggled with a cocaine addiction, left Bri and her older brother Trey with their grandparents a year later.
Now, however, Bri lives with Trey and her mom in a small apartment, though the family struggles to make ends meet. She and her two best friends, Sonny and Malik, attend Midtown High School. After winning a rap battle and releasing a song, Bri's fame starts to skyrocket, and she is forced to deal with discrimination and disputes about her music as she reaches for her dreams.
The first thing that I disliked about the movie was that it felt rushed. There was no real exposition; watchers were simply thrown into the story and any extra context was made up later. As someone who had read the book several times, I was able to get a grasp of what was happening, but the film jumped from event to event quickly and without many real transitions. There was also very little in the movie about Bri's day-to-day life. Some of my favorite parts of the book were in the little descriptions of Bri doing normal things. These scenes, however short, were witty and real, and they turned the novel into something genuine and loveable. She'd be fighting with her brother, gaming with her friends, playing Uno with her family – and that's how we got to know Bri as a character.
Speaking of, I felt that Bri's personality in the movie was a watered-down version of the book. I loved Jamila Gray in the role, but she had less of some of her distinctive traits – her love of Marvel and Star Wars, for example. In the books, Bri enjoyed video games and annoying her brother, and she had both a severe competitive edge and a love of arguing. In the movie, however, it felt like Bri's only personality trait was that she liked rapping. She was nice and passionate and funny, sure, but her movie persona lacked that special "Bri" factor that made the books so relatable and real.
Then there were the differences between the book and the movie. Some were small, but several of them were pivotal parts of the book for me; and without them, the plot felt foreign. I found that the two most glaring differences between the book and the film were the romantic relationships between Bri and her friends, as well as Bri's family not playing a significant role in her life in the film.
One of my favorite parts of the "On the Come Up" book was Bri and Curtis's relationship. They started out as the type of pseudo-friends that live to annoy each other, but as the story wore on they began to realize their feelings and eventually decided to date. Curtis was a funny and devoted boyfriend, and their relationship ended up helping Bri to expand her horizons while receiving support and affection. While Bri had feelings for Malik in the beginning of the book, they ultimately decided they were better of as friends – and personally, I strongly agree. While Malik and Bri love and understand each other better than almost anyone, they have a one-hundred-percent platonic relationship. However, the movie chose to cut Curtis' role and replace him with Malik. Their whole relationship ended up feeling forced.
On the topic of forced relationships, I can't not mention Sonny and Miles. Their story was adorable in the book – two self-conscious artists who connected online and eventually met each other in person. The progression of their relationship was sweet and natural. In the movie, though, their relationship moves at a confoundingly fast pace – one moment they're on a vacation with Bri, and the next they're telling Bri and Malik that they've been dating since that trip. Sonny and Miles barely knew each other, save for a cringe-worthy exchange where Miles pulled Sonny's hand to his heart and made a speech about music. Though they're obviously cute together, Miles and Sonny's movie relationship is stilted. Maybe if we got to see more of the supporting characters, we would have a better grasp of this couple. Sonny, Miles, and even Malik don't seem to have lives unless they're with Bri.
The last issue I had with the film was that Bri spent so little time with her family. While the bond she has with her mother is adequately portrayed in the movie, her
relationship with her brother Trey is nowhere to be found. In the book, however, he is her rock and her role model; they love each other deeply and are one of the most important parts of each other's life. But in the film, Trey and Bri seem to lack a genuine connection, and the real brother-sister scenes can be counted on just a few fingers. Additionally, in the book, Bri's grandparents played a significant role in her life, which fueled the subplot of Bri's struggle to re-accept her mother. Bri had a powerful bond with her grandparents – after all, they helped raise her – but this thought-provoking and heartwarming aspect of the novel failed to make it into the script. Bri and Trey's grandparents were completely absent from the movie. 
In conclusion, the novel "On the Come Up" outshone the film in almost every way. While I am an avid Angie Thomas fan and a general lover of the story, I must admit that the movie was not up to par at all. Hopefully, the next film based on one of Thomas's novels – whenever that may come to be – will do her talents justice.
Leave a Comment
About the Contributor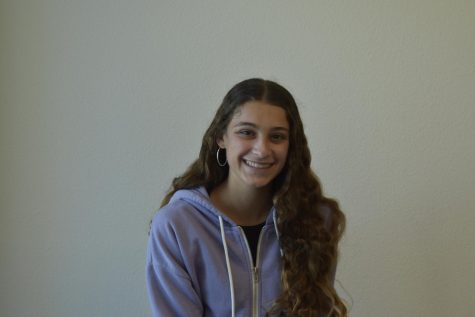 Delilah Sonnenshein, Arts Editor