"The Few" Review
Even before the house lights in the Sheryl and Harvey White Theatre were dimmed, "The Few" had already captured my attention. Upon entering the intimate theatre, the detailed set covered in stacks of old newspapers and complete with working computers and an answering machine perfectly set the scene in the year 1999 and was the first of several aspects of the play that worked together to transport the audience to a newspaper office for truckers in rural Idaho.
From this office, a cast of only three actors tell the story of a woman named QZ running a newspaper filled with truckers' personal ads ("Widowed S-W-M trucker in his sixties, mostly travel eleven Western states. Looking for any woman. Body type not important. Please respond."). When the newspaper's owner and QZ's ex-boyfriend, Bryan, returns, all hell breaks loose. Old conflicts are stirred up and new ones are formed, and the fate of the newspaper quickly becomes murky.
The cast of this play put on an impressive show. Gideon Glick, who plays QZ's young employee Matthew, makes a masterful transition from innocent and awkward to bold and assertive. I got the sense that Eva Kaminsky and Michael Laurence, who played QZ and Bryan, respectively, had known each other forever.
Seeing a play in the Sheryl and Harvey White Theatre, San Diego's only theatre-in-the-round, is an experience in itself. Audience members are never more than five rows from the stage, so the actors' every breath becomes a tangible element of the show. This atmosphere added a whole new dimension to the play: I could smell the smoke from Bryan's cigarette and flinched when on-stage arguments got heated. Since the seats surround all sides of the stage, I knew that the people sitting in other sections had a totally different perception of the play, which made it even more fascinating.
I would describe "The Few" as a well-rounded piece of theatre. The dialogue is witty and fast-paced, but the whole show is peppered with wordless, dramatic glimpses at the three different characters: fiery QZ, lonely Bryan, and awkward Matthew, who are all portrayed honestly by the actors. It's a thought-provoking drama, but there was enough humor in the script to make anyone laugh.
"The Few" will run until Oct 27, so I would recommend planning a night at the theater before then, because this play is definitely worth seeing.
About the Contributor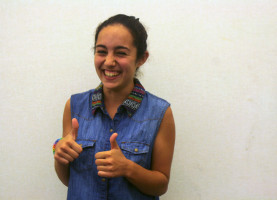 Roya Chagnon, Staff Writer
My name is Roya Chagnon and this is my first year on The Mustang. I'm into all types of art and I think you're funny.