Image courtesy of the San Diego Union Tribune.
Pretty Much a Kidnapping
The beloved Nutcracker - but from a more realistic perspective.
December 20, 2022
It is undeniable that the ballet The Nutcracker is a lovely holiday tradition. A young girl named Clara (or sometimes Marie) receives a lovely Christmas gift and is whisked away to a fantastical sweets-world with a handsome prince. How much more magical could the holidays get?
A lot more magical, I'm afraid. Because if you pull back the curtain of sugar and sparkling snowflakes, there are a lot of details that don't exactly line up with real life.
Everyone knows that at some point in Nutcracker, an army of mice or rats saunters into Clara's room and starts dancing – and later, the creatures fight the Nutcracker Prince. But when you think about it, why are there rodents in the house to begin with? Isn't that a little bit unsanitary? I think Clara/Marie needs to invest in some mouse traps. 
A lot of people watch Clara/Marie sleep.
This is really creepy when you give it a second thought. The angels, the aforementioned mice, and the Magician/Godfather all come into the main character's room and dance around her bed. First of all, how did they all get in there? And second of all, that's really disturbing. 
The Magician/Godfather is really mean.
I've always had a problem with this character. For one, they're super creepy. For another, they kind of look like a bat, with their big black cape that flaps around everywhere. But the main issue is that the Magician/Godfather is honestly a jerk. They steal Clara/Marie's brand-new toy, and then at the end – when Clara/Marie and her new friend (friend? we'll cover that in a bit) are really starting to have a great time – they go and change the Nutcracker back into a wooden toy. Who does that?
The entire show is pretty much a kidnapping.
The Magician/Godfather basically shows up in Clara's room, turns her doll into a human being, and whisks both of them off into a magical world. Cool? Maybe. Against the law? Most likely. As I said before, the Magician/Godfather is pretty creepy, so it wouldn't be out of character for them to abduct a young girl and a newly-alive prince. Which, may I remind you, is illegal – no matter how much candy Magician/Godfather has to offer.
Or the entire show is a big set-up.
Here's another theory: maybe the Magician/Godfather isn't kidnapping Clara/Marie and her Prince, but instead trying to set them up. Which – okay, maybe they'd make a cute couple. But isn't Clara/Marie twelve? That's too early of an age for dating, in my opinion. And while Clara/Marie is thirteen at best, we have no idea how old her prince is. Which brings us to…
How old is the Nutcracker, anyway?
Let's say the above idea holds true, and Clara/Marie and the Nutcracker are being set up. She's twelve. How old is her potential boyfriend, again? I'd hope that he'd be twelve, too, but there is plentiful evidence to the contrary. For one – his white beard, which puts him at around sixty. That's WAY too big of an age gap. He could be her grandfather!
Why aren't they eating the dancing candy?
Let's be merciful here and say that Clara/Marie's prince is twelve years old, just like her. The two of them are sitting in their thrones and watching as sweets and imported goods all but parade around in front of them. It's a known fact that pre-teens, boys especially, lack impulse control – and an even better-known fact that they are always hungry. So why aren't Clara/Marie and her prince eating even the littlest bit of the treats? Something doesn't add up here.
Well, there you have it – the Nutcracker through a real-life lens. All I can say is that I'm glad Clara makes it through safe and sound in the end – but she still needs to get those mouse traps.
Leave a Comment
About the Contributor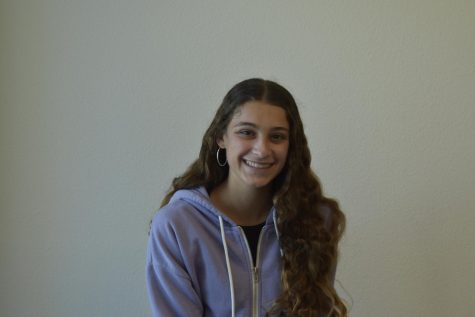 Delilah Sonnenshein, Editor-in-Chief
"It might not be easy, but it'll be worth it."