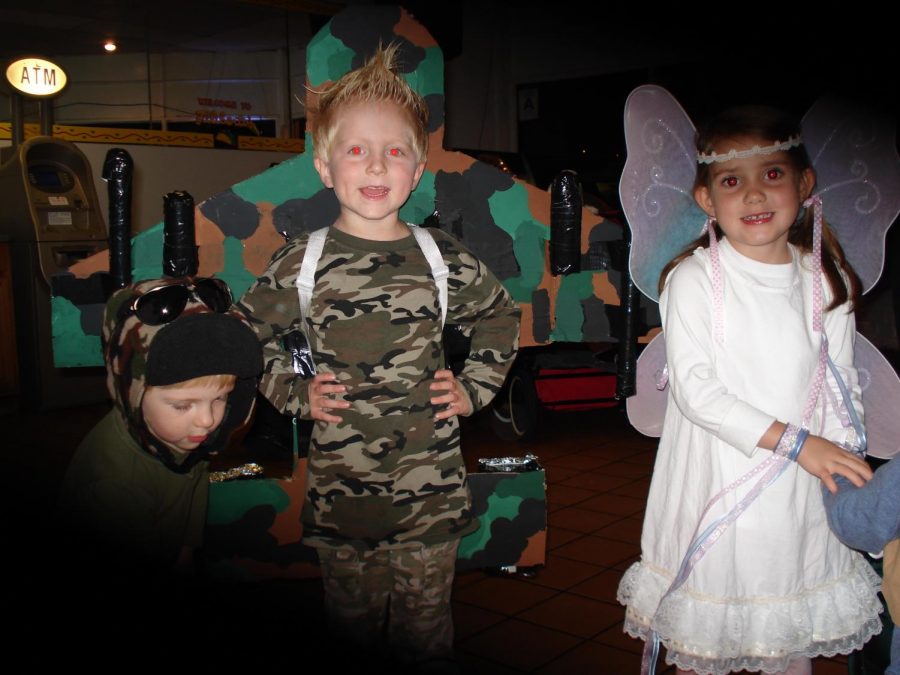 Party City: Halloween Heaven
October 23, 2017
"Follow the green spiders to get to the dressing rooms," says an enthusiastic employee to a hopeful mom and daughter. They follow the clipart stickers stuck on the ground to a sad cardboard box with some sort of makeshift curtains. The girl tries on her costume, and leaves satisfied with her choice of an independent heroine, Wonder Woman.
Party City is a popular destination for parents that are too lazy to hop on the DIY train, and don't want to spend too much money on a Chasing Fireflies costume (Candy Witch, $94). They can let their kids pick from a huge wall that is categorized by size and price, and they can try them on in the store.
The store also has a large array of spooky decor, ranging from cute signs that say "Boo!" to animatronic creepy dolls and giant spiders that are 4 feet long. To get to the costume wall, you have to walk through the realistic plastic animatronics and dead things. "Mommy, can we get out of here like right now?!" says a little girl tugging on her mom's dress just seconds after they enter the store.
The costume wall goes from the floor to the ceiling, showing off the thousands of costumes available. This area of the store is the most popular, considering most people are coming in for a costume. There are a few people going through the aisles of party supplies, grabbing plates and forks in pastel colors and patterns.
Throughout the store, there are kids running around, trying on terrifying masks, picking out costumes, shooting fake guns at other customers, with some picking out accessories for their costumes. A little boy searching for the perfect mustache is very picky: "That one looks like an old lawyer mustache…" A little girl puts on a poop emoji mask and tries to scare her mom─ mission failed.
A few of the costume wall shoppers ask for the opinions of their parents. They want them to approve their choice, so they can maybe be featured in their mom's #halloween2017 Instagram collage. Others just beg their parents for a certain costume, hoping they won't care and they can dress however they want. A little blonde boy tugs on his mother's pant leg, "Mommy I love those guys, I want to put that costume on me!" he says. He left with the red Power Rangers costume in hand.
A dad and daughter duo debates whether she should be a grandma (yes they make a grandma costume for little girls) or a Monster High character. "You should be granny; you do such a good grandma impression," says the dad.
"But her butt is big!" says the daughter, pointing to the large rump that the costume comes with.
"Can we Rochambeau to decide? If I win you have to be the granny. If you win, you can be Draculaura (the Monster High character)," says the dad. The daughter agrees, even though she definitely doesn't want to be the grandma.
"Ro-cham-beau!" they say in unison.
The daughter wins.
Draculaura it is.
Outside, there is a line of families going all the way to into Target. Party City customers are very confused, and ask the cashier what is going on. "Basically, over the past couple of months, Target has been doing a clothing and school supply drive, and those are all the people picking the stuff up," the cashier says.
Inside Party City, people are debating what they should be for Halloween, scaring each other, purchasing half gallons of fake blood, and arguing with their kid about wearing a borderline racist costume. Outside, families wait to receive pencils, new shoes, and clothing so they can get by the next few months.
Inside, they try to get their children to dress like a slightly risqué "Cop Cutie" or a Disney princess. Outside, they may not even have any costume for Halloween. Inside, outside, you can see children with smiling faces as they leave satisfied with their choices.