Opinion – Homeroom Olympics: Relay Race Day
March 27, 2018
At SDA, Homeroom Olympics is the pinnacle of intra-school competition. It is the stage in which homerooms both foster a sense of community as well as prove their ultimate dominance. Homerooms may elect to either participate or abstain from competition.
We are lucky to be granted the opportunity for friendly competition; not only that, but we're lucky to have homeroom at all. Homeroom Olympics was originally conceived by a group of students at a forum. Since then, it has taken up a life of its own due to dedicated student leadership and administrative support.
Some homerooms take a more intense approach than others. My homeroom, for example (Go Duck!), takes Homeroom Olympics very seriously. Last year we fought tooth and nail in the dodge ball tournament, but ultimately were rendered heartbroken in the final round. This year, however, we took back dodge ball. Securing the first place seed, we set our sights on future events.
Today, the next event in the Homeroom Olympiad, the relay race, took place. In typical SDA fashion, the events were anything but orthodox. The first part consisted of leap-frogging (if that's a verb) as a team for the first segment of the track. Next, participants were required to balance a water balloon on a plastic spoon, in their mouth, all the way to the next station.
The next station was the bane of my existence. Although ultimately winning our heat, the three-legged race was by far the most difficult leg (pun intended) of the relay. I started out strong, but took a pretty intense fall halfway through my leg of the race. I wasn't going to be the person who let down my homeroom, however, so I picked myself back up and finished my leg of the race.
After falling again and bruising my tailbone, I finally crossed the line. The next leg consisted of four people running with straws between their hands; I know it sounds weird, but just don't question it. I hobbled over to take part in the final leg: standing in a line, holding hands, and passing a hoola-hoop along the line without breaking the chain.
This relay race was a perfect allegory for the spirit of SDA: a little goofy, but intrinsically tied together with the spirit of community. Homeroom Olympics really embodies the best qualities of SDA: togetherness, acceptance, teamwork, and of course fun. I feel very lucky to be a part of it.
About the Photographer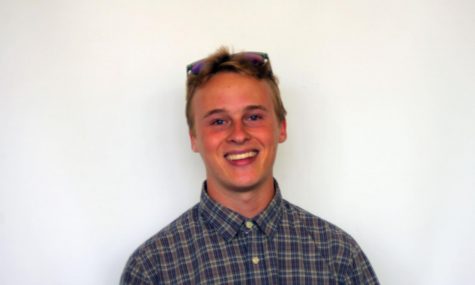 Patrick Hall, Photo Editor
My name spelled backwards is racecar.