Vandals Glue Locks of Classroom Doors, Disrupting Schedule
May 14, 2018
Teachers and students were left outside their classrooms for about 45 minutes this morning because vandals had glued door locks around campus. According to an email from Principal Adam Camacho to SDA families, the person or people responsible have not yet been discovered.
"While the perpetrator is unknown at this point, school administration and the Sheriff's Department are cooperating to investigate this act of vandalism at our school," wrote Camacho in an email early in the afternoon today.
As a result of the vandalism, students were required to attend homeroom in the place of first period, and class resumed ordinarily around 8:30 a.m.
Administration was "disheartened by this intentional act of property destruction and encourages our students and community to abide by our core value that if you See Something, Say Something," Camacho wrote.
Some, like English teacher Kerri Leonard, were "frustrated."
"The people who did this probably don't think about things how disruptive it is to the school day, how much work it causes for other people, and how expensive it is for the school," said Leonard.
Some speculated that it could be a senior prank.
"I've heard people say that maybe another school did it to prank us, but I don't think we really have that many enemies, and I also didn't think we had those people here. I know that not everyone loves SDA, but I feel like not enough to cost the school this much money. It's kind of funny, but then when you actually think about it, it gets much less funny," said senior Julie Daughters.
She also questioned the consequences, which have not been determined as it is still unknown who took part in gluing all of the doors shut.
"Unless they can figure out who it is, I hope there aren't consequences, because I don't want to get punished for something I don't support," said Daughters.
The incident created trouble for certain students and staff due to the fact that class schedules were interrupted prior to first period.
"Personally, I am annoyed a little bit because I have my system. Like, you go to first period then homeroom, but then this interruption throws that off and is just kind of annoying," said freshman Michael Price.
Other students reacted more positively, in response to the humor of the situation.
"I think it is really funny and I am happy that I do not have to go to first period, but I do feel bad that the janitors have to deal with the consequences. Also, separate note, who has to pay for the doors?" said senior Cole Christian.
Camacho asked students to provide any information they had on the issue by linking websites in which anonymous tips could be sent.
"If you have any information that might prove helpful, please contact the Assistant Principals' office via email or phone (x5004 or x5008). Anonymous tips can be submitted by calling 800-782-7463 or by going to the WeTip website to file an online report," wrote Camacho.
About the Contributors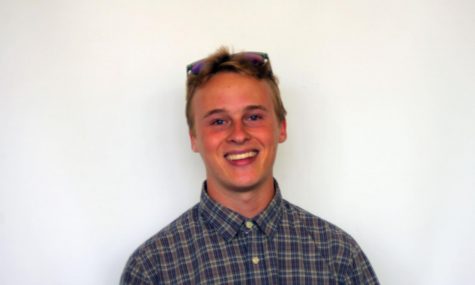 Patrick Hall, Photo Editor
My name spelled backwards is racecar.