Artwork is reigning around the campus
December 5, 2018
It's rainy midday on a Thursday at San Dieguito Academy, and walking to class; you find what seems to be a depiction of Spongebob, Patrick, and Squidward's house near the PAC. These were no accidents, but a rain-activated art project by the students in the Drawing and Design class taught by Zachary Ramirez.
When planning a class project, Ramirez kept returning to the idea of graffiti.
"I always liked graffiti and street art… it's such a cool movement… I was thinking of doing a project relating to it. So I thought, how can I tie this in together for the kids to do? Why make public art?"
This was when the superhydrophobic artwork project was born. Students used cardboard stencils and sprayed a water-repellent coating called Rain Works to create masterpieces unveiled when wet.
Ramirez, who went to San Marcos High, was first interested in art when he took a ceramics class. "I always enjoyed being in the art room constantly, creating, and problem-solving. I first took an art class as a junior and couldn't get out of the studio. I was practically a studio rat and stayed past class hours," he said.
Rather than being called an artist, Ramirez prefers "maker of things," because art can come in many forms with different perspectives. The topic of what "art" is, comes up in a lot of Ramirez's class discussions. "Art can be about the experimental process, social justice issues, communication, community… they are all different," he said.
Students can now have a mini-quest to find the total of nine artworks on campus, which could last up to two weeks, the art teacher said. Ramirez provided a list of clues written by students that can be found below.
1.
You can look down on it from two places.
It's really big.
Blue benches are near.
Think skate demo.
2.
On the way to the attendance office.
You can buy food here.
A lot of people walk this way.
It's below the sky.
3.
Between the gym and the bell tower.
In front of the PAC stage by 75 ft.
On the pathway that leads to two intersections.
Next to the tiny wall that's around a foot tall.
Next to the triangle grass garden that people don't really walk on.
4.
Don't judge a book by its cover.
Lots of skate stoppers.
V big 9 stairs.
Near the mustang tile.
5.
Next to P1.
Keep your head on a swivel and your feet on a slant.
You must take this step by step
This design left you to go to this café.
6.
Find the fish.
By the red flowers.
On the blacktop.
Between the mosaic and the new building.
7.
Just past the light post.
Old transportation near.
By the old basketball court.
On the slope section.
Between 2 asphalt patches.
8.
For if you seek flowers in the rain
From a hose will leave the water to show the stain
By the flower, by the plants
Before the mosaic café, it shall dance
Or beat before a grassy way with trees per chance
Mr. Chaker at the say round and round a trance
A square in a circle to stay
A view from the gallery to find our art we hope you may.
(If you don't understand this, it's by the mosaic and the garden. Good Luck!!)
9.
Up the wooden stairs on the concrete circle.
View Comments (1)
About the Contributor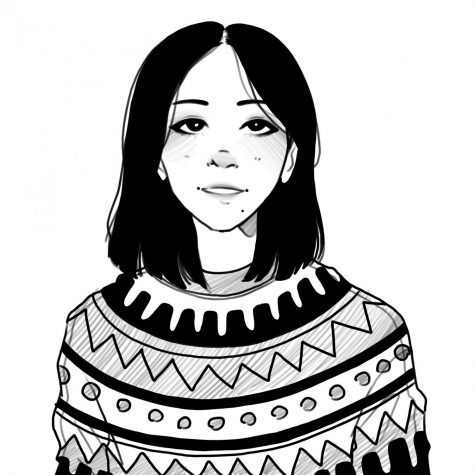 Taylor Lee, Online Editor/Podcast Producer
Free hugs for anyone and everyone!