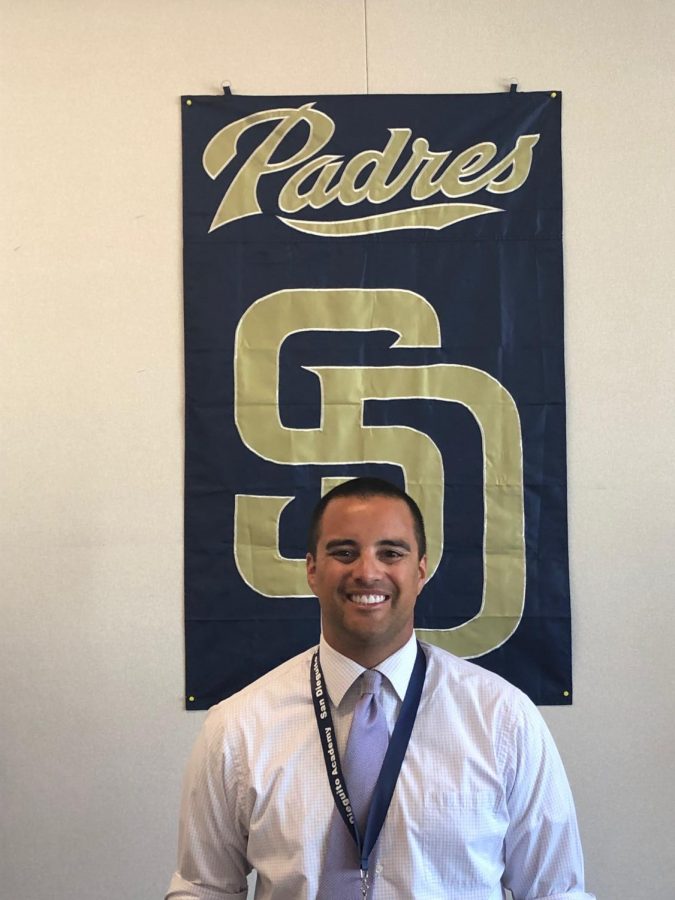 New math teachers on the block: Steven Dale and Leonard Fletes
September 13, 2019
Leonard Fletes (Fle-tez) is one of this year's new additions to the Math Department. He is teaching Math 2 and CP Stats here at SDA, joining us after 5 years at Oaks Christain School in Westlake Village and 1 year at LCC. He attended Diegueño Middle School for Eighth grade, Rancho Buena Vista High School, and went to Pepperdine University. 
Fletes lives with his wife, his two daughters, Nora and Riley, and their fish, Clifford. At both LCC and Pepperdine he did sports announcing and is looking forward to being the Varsity Baseball Coach and working with the FCA (Fellowship of Christain Athletes) here on campus. Having gone to school in the area, Fletes is impressed by how much SDA has grown and is "just so excited to be here." He was drawn to SDA by the opportunities the block schedule presents, and that it "lends itself to students who want to take more classes," and because it gives him the opportunity to teach more classes as well. 
New math teachers on the block: Steven Dale and Leonard Fletes
With the 2019/2020 school year in full swing, SDA students have been welcoming a host of new teachers including Steven Dale, who teaches Math 1 and 1 Honors out of room 96, and took the job as a "no-brainer": "I grew up here in Encinitas, I graduated from SDA, and it's reputation precedes itself."
Before returning to his high school alma-mater, Dale taught math for six years in various locations. Most recently he worked for King Chavez high school, which is a small charter school in the heart of downtown San Diego, but he's also worked at Grauer, the Bishop's school, and spent a year teaching kids English in Seoul. 
Along with his love of math, Dale has quite a few unusual interests. "I get really into random things," said Dale, "Like when I was in 6th grade I got super focused into juggling. So I can juggle like five balls and flaming torches, and ride a unicycle." 
Dale is also a seasoned sourdough maker. He even has an Instagram account @sourdoughstevesd which follows his journey through the bread-making process. Dale said, "I'd never tried it before, randomly came across an account on Instagram that had all these beautiful sourdough breads, and I've always liked sourdough bread, like who doesn't. I lived in San Francisco for a while like you know, of course. I just saw a picture and was like this is really cool, I wanna be able to do this so I learned it, and it's really fun."
His posts are somewhat technical, as they are directed towards fellow bakers, however the photos are quite beautiful. An example of an @sourdoughstevesd caption: "nice 30%WW bread. 85% hydration developed a fantastic structure through the folds during a 15 hour cold bulk. Overnight proof. This one felt like an effortless dough (as you home bakers know, that is not always the case…) It did everything I hoped for, exactly the perfect timing."
As a former SDA student, Dale's advice to his high school self is such: "Don't take yourself too seriously. You're gonna have so many experiences in your life. So try something different and if it doesnt work its not the end of the world!"
About the Contributor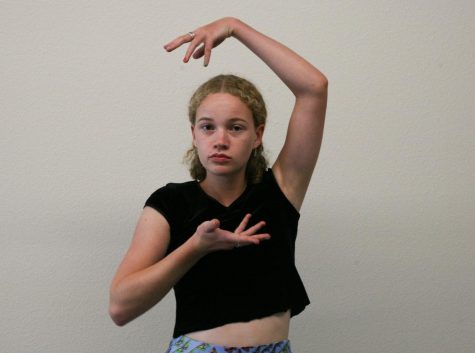 Lila Schief, Arts Editor
Always keep one eye open and beware of the bird drones!
Leave a Comment