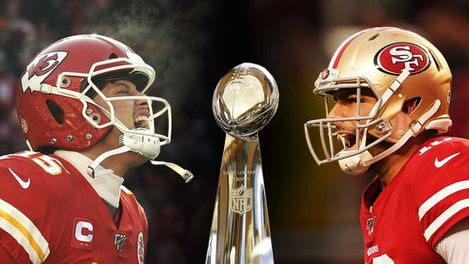 Photo Courtesy of the Washington Post
A battle for the ages: Offense vs Defense
January 22, 2020
After an interesting year of football, the Super Bowl is finally set and ready to go. In Miami, Florida, we will see the Kansas City Chiefs take on the San Francisco 49ers for Super Bowl LIV. Also, yes, you heard me correctly, the New England Patriots will not be competing in the Super Bowl this year. Out of the AFC, the Chiefs are representing after taking down the Houston Texans in the divisional round and the Tennessee Titans in the AFC Championship. Their offense, led by star quarterback Patrick Mahomes, has been scoring points like it is what they were born to do. With speedy Tyreek Hill at wide receiver and big yet mobile Travis Kelce at his disposal, the Chiefs' offense has been destroying other team's defenses. On the other hand, out of the NFC, the 49ers will be participating in the Super Bowl. Led by their young and explosive defense, the 49ers have been taking down team after team. In addition, they have a very solid offense as well. Although knocking off the Minnesota Vikings and Green Bay Packers in a promising manner, the 49ers open up as slight underdogs. Both teams have blown out every team they have played in the postseason, and we can safely say these are the two best teams in the league.
One of the most popular quotes in sports is "defense wins championships," and Super Bowl 54 will tell us how true that is. The big game will feature one of the most explosive offenses the NFL has ever seen, versus one of the most gruesome and lockdown defenses we've ever seen. It will be a battle till the end, and it will be very interesting to see who will pull away with the victory.  All in all, this one should be an exciting one as a very high powered and explosive offense (Chiefs) will be going up against one of the best and most talented defenses (49ers) from this season. 
Matthew's Prediction:
Chiefs- 35
49ers- 38
I believe that the combination of the underrated offense and great defense possessed by the 49ers will be just enough for them to edge out the Chiefs and become Super Bowl champions this year. 
Zach's Prediction:
Chiefs- 34
49ers- 24
I believe that although the 49ers have such a strong defense, the Chiefs offense is too powerful to be stopped, while the Chiefs defense will do just enough to hold the 49ers offense to minimal points, and pull out a victory in what will be a battle until the end.