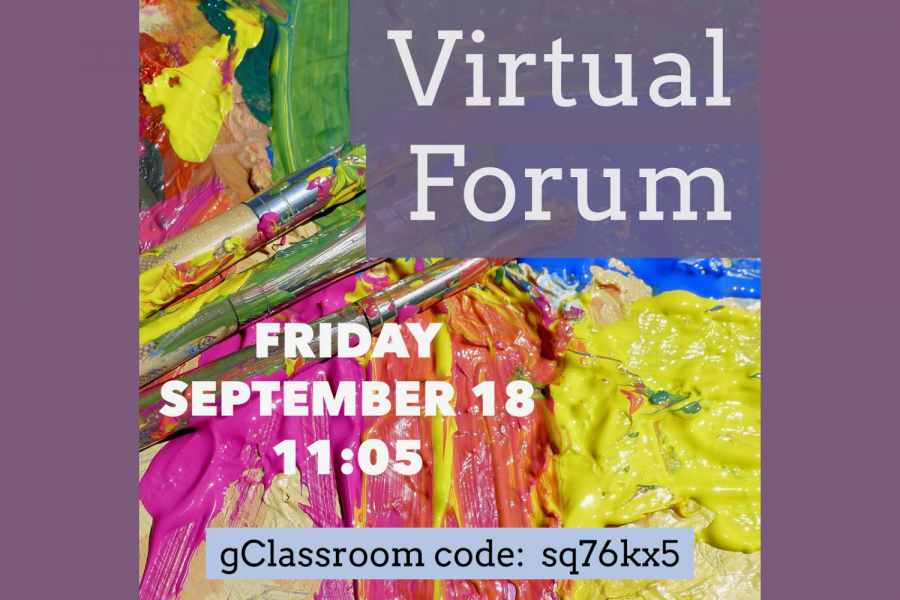 Photo courtesy of Celeste Barnette
September Forum: New school year, new discussions
The first forum of the school year shared concerns of racial inequality, 2nd quarter, and more
September 21, 2020
As 128 students and staff hopped onto the first forum of the year, they discussed topics such as the new club MAC, opinions of distance learning, and the possible plans of our second quarter. And thus began the first– albeit virtual– forum of the SDA school year. 
Racial Diversity and Inclusion
Sophomores Joy Ruppert and Aya Jaffer started a new club called the Multicultural Anti-Racism Coalition to ensure that San Dieguito Academy is more inclusive for minority students. Ruppert and Jaffer, co-presidents, discussed the actions they would take to make sure their goals are met. "M.A.C. is working on ethnic studies for all classes," Ruppert said on the steps to take to meet these objectives.
Some examples of the effect of the MAC include English teachers incorporating more inclusive texts in their curriculums, science classes investigating science and race, discussions during class about white privilege and racism, and a social justice book club.
Principal Adam Camacho expressed his full support for the new club, stating that "we are one hundred percent on board for supporting this grassroots movement. Let's engage in the conversations where they can be meaningful, we can all learn together, and do what's right."
Quarter Two
The district Board of Directors met to finalize a plan to continue distance learning through the second quarter last Thursday. While the school plans on having all classes online, "there is a caveat that things can change with health orders," said Camacho. This prompted many questions from students who wondered how school would be handled when/if campus finally opens up; particularly with the mandate of masks. "All local health orders will be followed," said Camacho, which means that at this point, all students and staff would be required to wear masks on campus unless they are by themselves in a safe environment. As for the specifics of a full school day, there are still many things that need to be figured out, such as how lunch periods would work and how classrooms would be arranged. 
Another major concern with students was that their peers would choose not to wear a mask even when they are required. Camacho said that there will be consequences if that were the case. "The most important thing is safety. We're not going to sacrifice that, not under my watch. I would not ever sacrifice or experiment with anybody's safety to rush to open schools," he said.
Kaya Simoce, Skyler Martin, and Isabella Thierry contributed to this article.