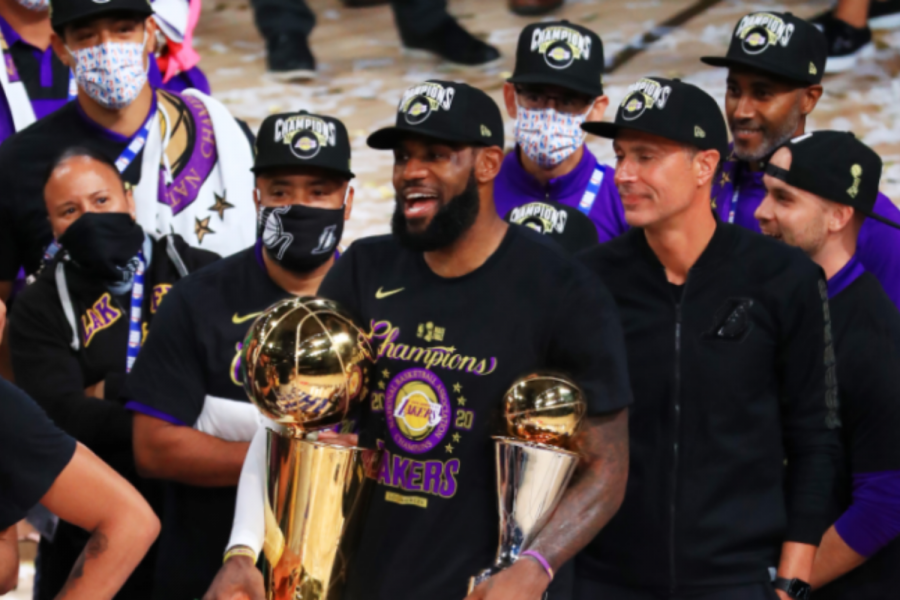 One King, Three Teams, Four Championships
LeBron James has left his footprint on the game of basketball yet again
October 22, 2020
LeBron James became the fourth player in National Basketball Association (NBA) history to win a championship with three different teams on Oct. 11. 
Prior to the Los Angeles Lakers impressive defeat of the Miami Heat, only two players had ever accomplished this feat. Astonishingly, James' fellow teammate Danny Green also made history by fulfilling the same landmark. 
James, having won the NBA Finals with the Miami Heat and Cleveland Cavaliers previous to this year, elevated his greatness with his exquisite play as a Laker. In his fourth championship win overall, James was awarded the NBA Finals Most Valuable Player. As a thirty-five-year-old, he has once again amazed spectators throughout the world and proves that he still has plenty left in the tank.
With the win over the Heat, the Los Angeles Lakers attained their seventeenth title, tying the Boston Celtics for the most of any franchise.
During the post-game ceremony, James said "We just want our respect." Although no one other than James can know what he meant by this for certain, many have interpreted it as a message related to the highly opinionated debate of who is the greatest basketball player of all time. 
Whether you consider Michael Jordan or Kobe Bryant or LeBron James to be the best to ever play the game, as a huge basketball fan myself, I can only hope that you respect and appreciate what James has done for the sport.