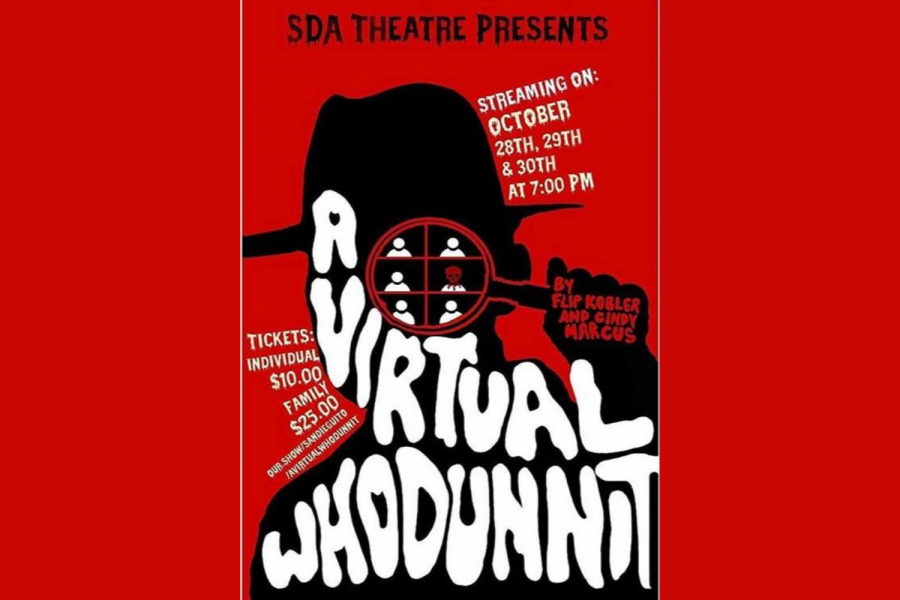 How SDA Theatre is Conducting Rehearsals for Their Upcoming Show "Whodunnit"
October 24, 2020
Students still need to have a creative outlet during distance learning. The SDA theatre program has found a way to safely conduct rehearsals for upcoming shows. 
The SDA theatre program is preparing to perform their production of "A Virtual Whodunnit." This show is about a homicide detective figuring out who killed the character, Augustus Sterling, with a different ending each time. 
Instead of holding rehearsals in person, the actors and tech teamwork in breakout rooms over Google Meets every Tuesday and Thursday. Having a team to rely on is critical for the success of any production but it is especially important under the current circumstances.
Ella Darlington, the student director, is in charge of running activities with the actors to get them ready for rehearsals. She runs warmups and gives them notes throughout their practice jumping in from one breakout room to the next. 
"The hardest part of doing online rehearsals is managing everyone's tech problems," said Darlington. "We probably have one person a day kicked out of a meet or frozen or their audio doesn't work. It also sucks not being able to see everyone." 
However, it makes it easier for the team that the play was written to be performed over Zoom. 
Being able to adapt to these different situations is crucial. They are having to take a different approach than they are used to when preparing for this production. 
"I am blown away by the amount of creativity and innovation our actors and technicians have brought to the production," Siers said. 
It is going to be shown on a live stream from Oct.28th to Oct. 30th at 7:00 pm. The tickets are being sold on the SDA theatre site for $10.00 individually and $25 for families. Come enjoy and support this new production.