The Haystack Episode 1: Counting by Twos
March 27, 2021
We are excited to announce our first podcast named "The Haystack" a personal narrative podcast from the San Dieguito Academy community. In our first episode, we are going to hear from Junior Piper Ligotti.
Ligotti counted in front of Mr. Nelson's first-grade math class, but as ordinary as the moment seemed, the impact was much more significant. Here's her personal narrative essay:
My first-grade classroom was a pirate ship, mysterious and tantalizing. Little desks lined the classroom like wood planks on a deck; the walls were plastered with a deep navy wallpaper, and a tall oak stool that stood like a mast bore the weight of my new captain.
Mr. Nelson was a stout and gruff man. At first glance, one would never put him in front of a shipwreck full of seven-year-olds, but there he was, my first-grade teacher. Mr. Nelson was the embodiment of tough love. He had a 70's-PE-teacher-turned-pirate aesthetic with a protruding beer belly and a deep growly voice. Even though he brimmed with the potential of ripping your first-grade ego to shreds, his burly figure wasn't at all menacing.
I remember that we always started our math class with counting. He sat at his post and held a chipped coffee cup full of popsicle sticks. Gingerly, he would pull four victims and bellow their names. The first of these names would have to count to one hundred and back, but with a twist: by twos. If the first person failed, the second was next, and if they failed, the third was up.
I was fourth.
I was familiar with counting, consecutively moving up by one. I was familiar with subtracting, the line like a sideways sword that "took away" from the first number. But up by a different interval, twos was threatening. Then backward in the same way? Unheard of.
The first kid made it up to 76. It was like watching a movie when he rattled off each number. We were sure that he would make it. We watched as he grew closer and closer to the goal, watched as his hands fidgeted and voice cracked, watched as he took an extra pause at his mental cliff of 76, a mere breath in his speech as he spits out the incorrect syllables: seventy- seven.  We jumped out of our skin as Mr. Nelson bellowed in a boisterous voice, NOPE! Next person. Go! 
The second girl did no better, losing her train of thought around 40 or so. I was nervous now. The third I tuned out, way too preoccupied with the fact that I was on deck. 
Piper! Go. The scary voice shouted out from the front of the classroom, and my brain froze. I clamped up; my heart flung itself against my ribcage as I tried to remember the sequence of numbers that were called upon me. I felt like bound shark bait, hanging above a roiling sea of Great Whites. 
I knew my starting point: two.  I knew my next move: four. And I knew my endpoint: 100. That seemed easy enough. Now all I had to do was count. I realized the treacherous waters past ten were not so daunting because I found a treasure: a pattern! The tens place goes up by one. The one's place is the same two-ten pattern, except once you get to eight, it switches to the next level of ten.  
To my surprise, I counted all the way up to 100. Standing there, the euphoria was brief. I felt the eyes of all my classmates bearing into my back. I knew next was 98 and all the way down the nineties, but in the eighties, I started to stumble. One false move and I fail; one voice falter sends me plunging from the plank into the frigid waters and back to my desk with shame and inability to count. 88…86…85- ouch! 

My fatal flaw. My final undoing. 
It was the first time I experienced all five stages of grief in a matter of seconds. Denial: I was sure that I said eighty-six, not eighty-five. Anger: at myself for making such a careless and terrible error. Bargaining: begging Mr. Nelson to let me try just one more time. Depression: as I drifted down back into my seat. And finally, acceptance: I pledged to myself the next math class I would achieve that decent by twos if it was the last thing that my first-grade mind would do. 
Human stories are candid, vulnerable, and reveal something we don't know about someone or how similar we all are. San Dieguito Academy's The Mustang shares a historical archive of personal narratives from the Mustang community.
Check us out on Spotify, Apple Music, Anchor, and more. Taylor Lee produced this podcast. Voice by Olivia Lyons. Personal narrative story by Piper Ligotti. 
Leave a Comment
About the Writer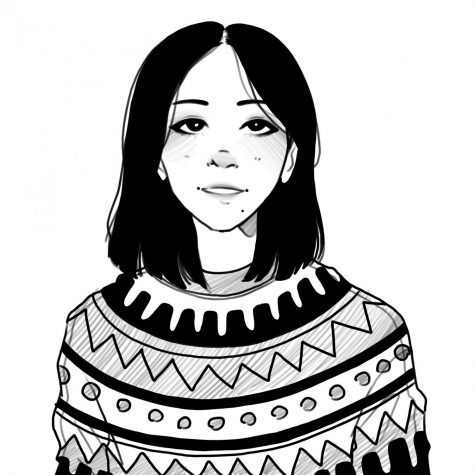 Taylor Lee, Online Editor/Podcast Producer
Free hugs for anyone and everyone!