The Haystack Episode 2: Red Underwear
April 20, 2021
"The Haystack" is a personal narrative podcast from the San Dieguito Academy community. In our second episode, we are going to hear from an anonymous senior who reflects on self-love and appreciation told through a story about her pride and joy: her favorite pair of underwear. Here's her personal narrative essay:
Today was my last pair of clean underwear from the drawer. 
Having an empty underwear drawer means descending the stairs as quietly as possible because it's midnight and the house is asleep. This is when I inevitably forget to retrieve my clean laundry from the dryer. 
It means cold toes on dirty concrete, the zing of a single overhead fluorescent tube light, and its contrast to the suspenseful black of night on the other side of the garage door windows. It also means I get to choose whatever pair of clean underwear I want from the fluffy pile in the dryer. 
The choice is always the same: my bright red pair from Aerie.  They are my secret joy. 
I'm not usually the bright red underwear type. When given a choice between fashion and comfort, I chose comfort almost every time. I didn't even mean to buy them. I had intended to buy the beige ones, but they were sold out, and the red pair was half price. 
God bless my practical shopping skills because I never feel more rawly stunning than when I'm brushing my teeth in my red underwear and a perfectly messy bun. 
It doesn't matter what top I'm wearing. Maybe it's my dusty blue bralette. I love that combination. Today, it's the oversized navy blue t-shirt with the beach scene sketched across the front in white that I got at a Goodwill in Hawaii for $4. I feel just as sexy in it as my bralette. 
As I brush my teeth, I rub my free hand across a bare belly, scrunching an edge of my t-shirt to reveal a flash of the ribbed red waistline of my underwear. I don't necessarily feel super skinny in my red undies, but I don't feel the need to be.
I feel beautiful, exactly right. 
Someone, someday, will marvel at the beauty of not only my mind and soul but also of my tousled, unbrushed hair and my bare legs and the way my XL t-shirt drapes over my short, square frame as I brush my teeth. 
A vision, they'll think. 
Maybe this scene takes place 2 years from now.  Maybe 20. 
Until then, I'll enjoy my beauty. 
My red underwear is my secret joy, the quirky private thing that makes me smile even though I know it's silly. They help me to love my body, to love myself.
As I spit the toothpaste from my mouth, I think about the other things, the secret things about myself that make me smile.
Dancing in the kitchen to old Taylor Swift songs when no one else is home. Highlighting my favorite lines in books. Fitting in better with kids and dogs than adult humans. Talking fast when I'm excited about something. Writing stories about underwear at 1 in the morning. 
I also think about what other people's red underwear might be.
What are the unique things they love about themselves, the ones that make them feel exactly right? 
I smile, knowing that I'll probably never find out. And that's ok. Just knowing these secret joys exist is enough for me.
Human stories are candid, vulnerable, and reveal something we don't know about someone or how similar we all are. San Dieguito Academy's The Mustang shares a historical archive of personal narratives from the Mustang community.
Check us out on Spotify, Apple Music, Anchor, and more. Taylor Lee produced this podcast. Voice by Olivia Lyons. Personal narrative story by an anonymous senior. Art by Skyler Martin. 
Leave a Comment
About the Contributor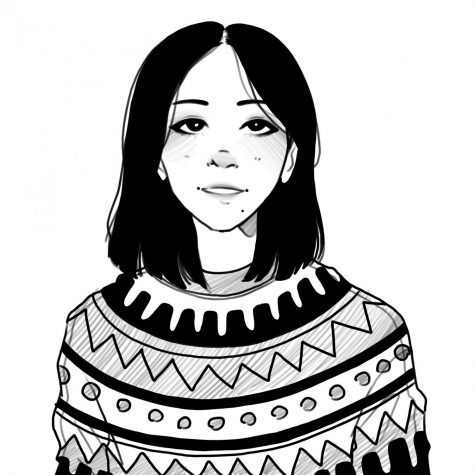 Taylor Lee, Online Editor/Podcast Producer
Free hugs for anyone and everyone!