Vibrantly Celebrating Life with Dia de Los Muertos
October 30, 2018
Pergolas dripping with marigolds and delicate paper flags greeted visitors and participants as they entered Solana Beach's Dia de Los Muertos celebration, Sunday.
Grace Ortega, first time participant, said, "We live in America, but this area for many years has been for people from all over, and today is a celebration of the community's culture coming together… this is community and love."
This event, which honors loved ones who have passed away, is deeply ingrained in Mexican and Central American culture. Each year, crowds gather to enjoy traditional food, dance, clothes, and pay tribute to their ancestors with elaborate altars adorned with flowers and meaningful trinkets.
Dia de los Muertos, or Day of the Dead, actually takes place on November second, but larger, more organized events occur over Halloweekend. Solana Beach housed one of these events on Sunday, as they do annually.
Hot tamales and handmade tortillas littered the venue, beckoning customers to brightly colored booths as they wafted their smells throughout the festival. Small girls with frilly dresses and skull-painted faces ran aimlessly, supervised only by a few teen volunteers in neon orange t-shirts. A variety of decorations, art, pottery, jewelry and other integral Day of the Dead items were sold in booths lining the main area of the field, which was devoted to music.
Three bands played: Santanaways, Bulevard Descarga, and possibly the most fantastic, Creepxotica, with band members in gold sequined suits, skull masks, and black fezes.
Liveliness radiated from every corner of the event. A sensation that was contradicted only by the multitude of paper skulls and altars to real spirits that served as a constant reminder of who the celebration was really for.
"I know my father's spirit is happy because I'm doing this for him," Ortega said, "This is my first year, and I think Dia de los Muertos to me is for loved ones. To remember them not only spiritually, but emotionally too, and let them live, today, in our hearts."
About the Contributor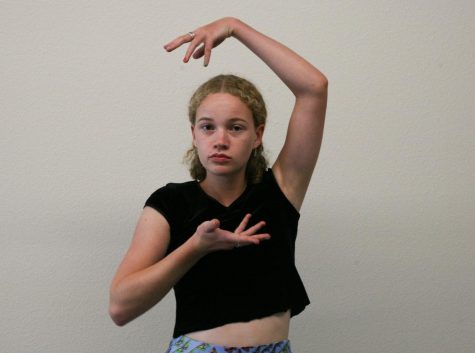 Lila Schief, Arts Editor
Always keep one eye open and beware of the bird drones!