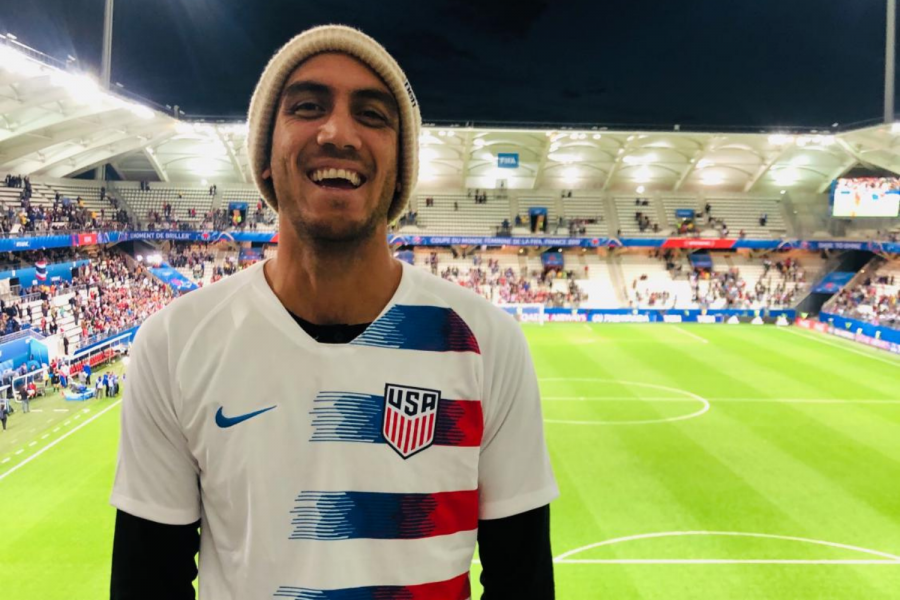 Photo courtesy of Alex Ramirez
SDA welcomes Alex Ramirez to staff
Ramirez joined our school's staff as the new front office assistant during the second quarter
January 23, 2021
San Dieguito Academy's strong community is continually growing, and we now have a new staff member to welcome: Alex Ramirez, SDA's new front office assistant.
Ramirez grew up in the Vista/Oceanside area, where he graduated from Vista High School and soon after graduated from Point Loma Nazarene University. After completing school, he worked as the admin support secretary at the Vista School District's teen parent program. Eventually, he became an instructional assistant and the boys varsity soccer coach at Mission Vista High School. "I am honestly a jack of all trades and have had so many fun and fulfilling jobs in my lifetime," said Ramirez, "but I am happy to have found a new home here at SDA."
The SDA is known for its culture and community. Ramirez was aware of this and had heard "that the student culture was eclectic and vibrant as well as the fact that the roots of SDA Alum run deep," Ramirez said. He had always heard good things about the SDUHSD as well as SDA itself. He pointed out that he wanted to become a part of SDA because of the "comradery and togetherness" that makes up SDA.
With a new job comes new challenges and new responsibilities. For Ramirez, the most challenging part of his new position as front office assistant became familiar with the ever-changing campus. "The entire school has been re-keyed recently, and on my first day on the job, I had to distribute keys to teachers who I was meeting for the first time and also had no idea what room they were in," he said. 
Learning our campus can be difficult and it can be easy to appreciate what it offers. "I will say that after many walks around campus, trying different keys on different doors, I have gotten a pretty great tour of the campus and all the amazing artwork," Ramirez said. 
Besides working at SDA, Ramirez has always enjoyed soccer, and he has played the sport since he was five years old. He also enjoys anything related to the ocean– "bodyboarding, spearfishing, fishing, and jet skiing" are all some of his favorite activities, said Ramirez. Another passion of his is world travel. He has traveled all over, including Panama, Switzerland, and Morocco. "I took a month-long trip to Europe in my mid 20's and came back with such an appreciation for other cultures, people, and food as well as a new perspective on life," Ramirez said.
As well as his work in the education system and his other passions, Ramirez is incredibly passionate about giving back to the community. He has founded a nonprofit organization called "Leaving Futprints," which aims to use a soccer coaching platform to provide resources for underprivileged children, special needs kids, and at-risk youth.
His ultimate goal for the future is to continue to have a significant impact on children in Southern California. Additionally, he intends to continue his education and pursue his Master's Degree in counseling and guidance."I feel it would align well with my nonprofit's mission to motivate, inspire and guide our youth to pursue their dreams and make a positive impact in our world," he said.
Ramirez is a wonderful addition to the SDA community, and we hope to have him as a part of our school for a long time.