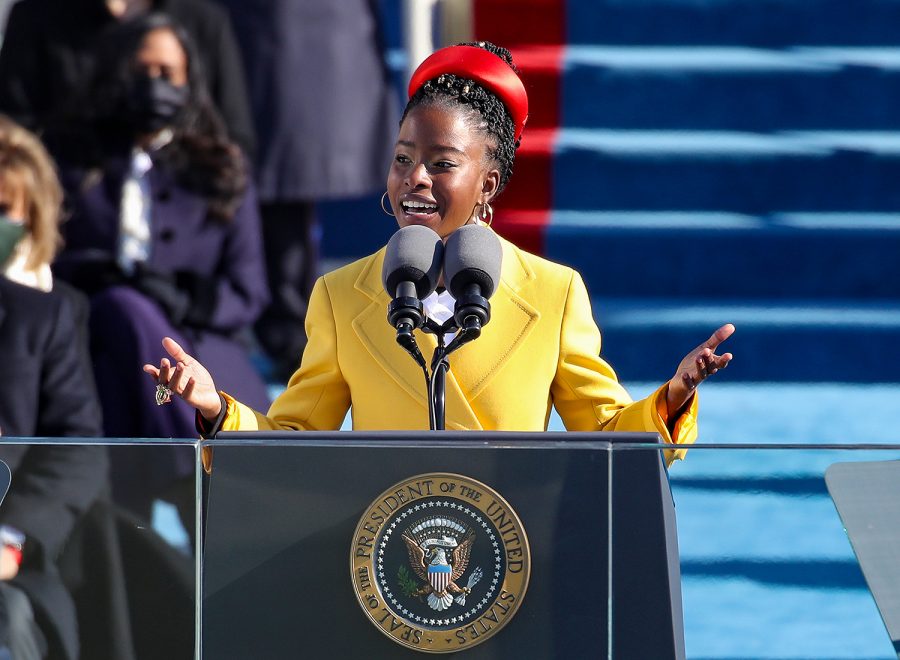 Photo by Rob Carr/Getty Images
Youth poet Amanda Gorman recites her inspirational inaugural poem
January 25, 2021
Amanda Gorman, the 22-year old award-winning poet, spoke at the inauguration ceremony on Wednesday, Jan. 21. 
Gorman's powerful, heartfelt poem "The Hills We Climb" described one of the most historical lessons and a call for unity throughout America. She wrote her poem during the Capitol attacks. 
"We seek harm to none and harmony for all…For there is always light if only we're brave enough to see it. If only we're brave enough to be it," Gorman powerfully stated as she shined brightly on the podium. The poem has shown it is possible to make a difference and regain what we have lost as a nation with her passionate and encouraging words. 
Additionally, her outfit was symbolically tied with her beautifully written speech. Her caged bird ring was gifted from American talk show host Oprah Winfrey to honor the famous African-American poet Maya Angelou. 
Gorman has empowered change globally through her poem and represents the years to come. Gorman plans to run for the presidency in the upcoming years.
"Where a skinny black girl, descended from slaves and raised by a single mother, can dream of becoming president, only to find herself reciting for one," Gorman said. This is just the beginning of America's change and Gorman's rise.