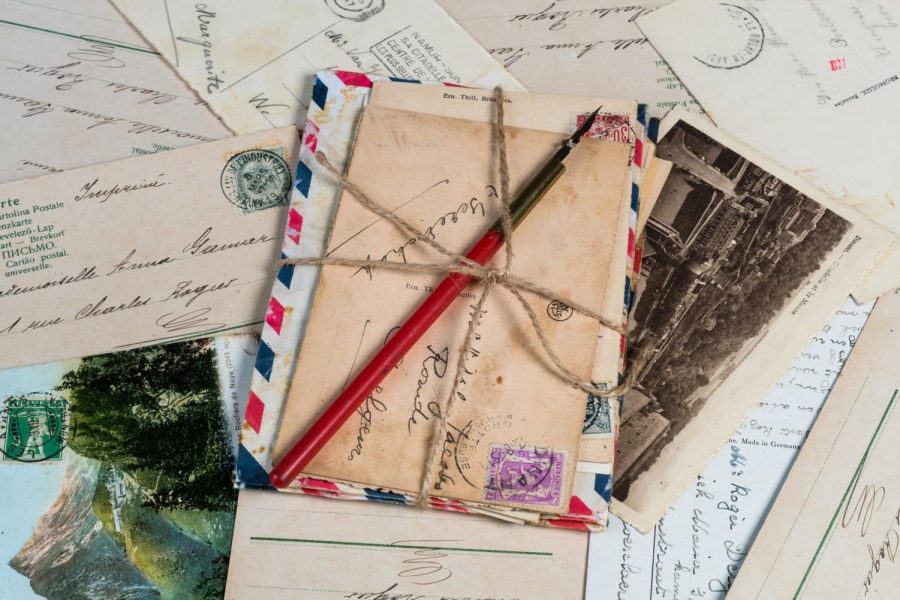 The significance of an old-fashioned letter
May 4, 2021
"Sending a hand-written letter is becoming such an anomaly.  It's disappearing. My mom is the only one who still writes me letters. And there is something visceral about opening a letter-I see her on the page. I see her in her handwriting," said Steve Carell in an infamous quote from a post on Facebook. 
Handwritten letters may be an unspoken subject or at least something most people overlook. However, I believe that the act of writing letters is something that now is an essential thing to do during tough times like these past few years, and here is why. 
You never know how much just sending a letter to a friend, a family member, or even a neighbor can impact them. It shows that you took the time to write something heartfelt or demonstrates even a little sign of appreciation. The feeling you get from a particular letter that they will cherish as they will never forget the day they received it. No matter how you may perceive it, it can go a long way. 
Sometimes, it's hard to show emotions or feelings over texts, emails, or posts because you can't always remember the conversation you had with someone. However, with a letter, you will never forget the way it made you feel. As with texts or typing, it does not show whether or not that person took time and effort to write something out in a letter and send it, making it more personal, as you can see the person through their handwriting.  That is the crucial thing, how it makes you feel and being in someone else's shoes. It is a way of showing connectedness and love, even if it's just a simple thank you or saying how they have impacted your life, a time they made you smile, or even feel good about yourself.
Letters are also permanent;  you can look back on them throughout your life and instantly remember the day you wrote them and how they made you feel. I have received many letters and texts in return about the feelings that my letters gave them every time they received one or re-read it. It is a way to feel something that texts, phone calls, or emails can't always give you as you aren't showing yourself as much as you would be through writing. I have kept all the letters that I have received over the years. Anytime I want a little pick-me-up or just a look into the past, a hand-written letter is a good reminder of how far one has come. It is personal yet appreciated to have a physical marker of the significant moments in your life. Whether that be graduation, making it through quarantine, going back on campus, anything you can imagine! To quote the book The Midnight Library, "you should never underestimate the importance of small things."
And even though it may be hard to find time in your constantly busy days, writing letters is worthwhile, and you won't regret it. It is a personalized reminder, showing that person a little bit more about you. And hey, you might even enjoy it! Even if you aren't a prominent writer, you can feel proud when you've finished it, and you'll even have something positive to think about when the receiver gets it and sends you a text or letter in return! You can even have a pen pal as a way to write with someone you may not ever see in person especially due to COVID, so it makes for a way to show you are thinking of them. So whether you are sitting reading this, or working on homework or something else, make some room in your day to write a little letter. You may feel a slight sense of joy, and you never know how much it can change someone's day. 
Research has shown that up to 100 instant messages can be sent by one person alone each day, with email accounts receiving and sending 100 emails a day. We are used to receiving this daily wash of words that we begin to devalue the meanings. Receiving an email thanking you may initially raise a sense of warmth, but it's quickly lost and forgotten in the sea of emails and messages.
Thus, a handwritten note shows deeper investment in the person to whom you are reaching out, as paper, stamps, drafting, and visiting the mailbox indicates costliness in both time and effort. Making the appreciation being received greater and leaves a lasting impression. It can show a person is not forgotten, follow up on previous conversations, or even include a gift, all of which show care and thoughtfulness, which can be especially important during a worldwide pandemic.
Whether it's a few words, a sentence, a paragraph, or longer, have fun with writing letters, and know you will make someone happy. That's all it takes.