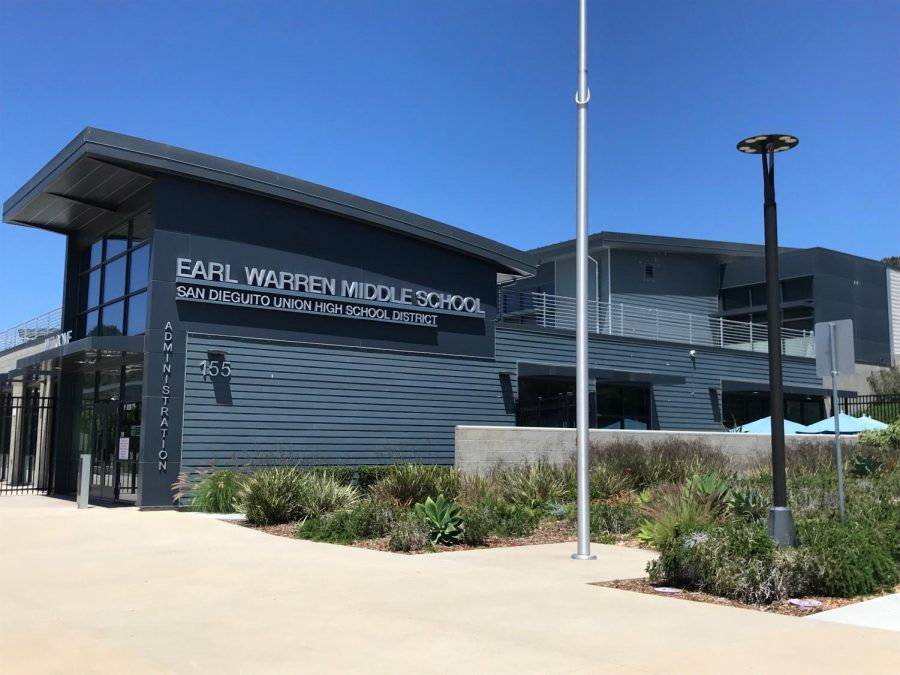 Revisiting the name of Earl Warren Middle School
May 24, 2021
As anti-racism activism becomes a more prevalent topic, many once glorified historical figures with their names branded on schools are coming under fire. For example, The New York Times reported that the San Francisco Board of Education voted to change the names of 44 schools, including those named after founding fathers George Washington and Abraham Lincoln. Now, another racial minority faces serious discrimination; hate crimes against Asian Americans and Pacific Islanders have reportedly nearly doubled. With yet another movement for equality rising, it's worth wondering if more prominent historical figures will come under fire.
Should SDUHSD's Earl Warren Middle School be a part of that conversation as well?
One such figure includes Earl Warren, the 30th governor of California and served as Chief Justice of the United States from 1953 to 1969. He is often recognized as one of the most influential political figures in U. S. history. Like most politicians, however, his history is far from perfect. Warren played a significant role in the advocacy for Japanese internment camps during World War II. Approximately 120,000 Japanese Americans were wrongfully placed into internment camps, where they were subjected to unfair and cruel conditions. (It's worth noting that Warren later expressed regret for supporting the internment.) 
Earl Warren Middle School was founded in 1954, just months after what was perhaps his most significant ruling, Brown v. Board of Education. This labeled the racial segregation of schools as unconstitutional and was an incredibly impactful decision and is likely the reason for the school's name. 
So is a name change necessary- or even an option to be considered? "We have not explored a name change related to the recent attacks against the AAPI community," Earl Warren principal Justin Conn said. On one hand, he was "largely responsible for the landmark ruling in Brown v. Board of Education." On the other hand, however, the Japanese internment camps were an atrocity that cannot be excused or ignored- and neither can the people who helped make it happen.
On occasion, it's good to look back on history with a fresh set of eyes and view historical figures from different perspectives than before.