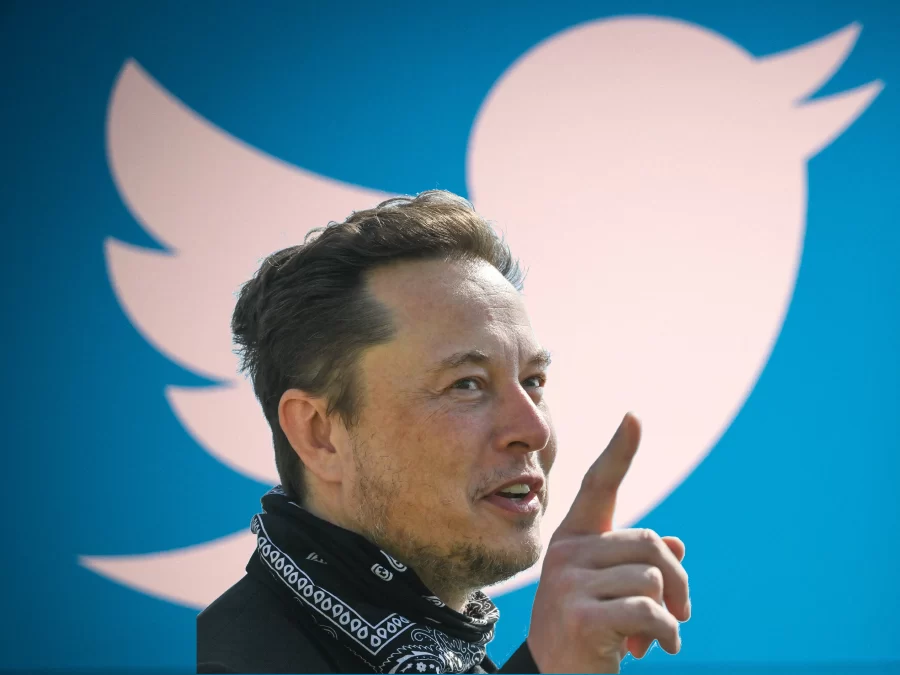 Musk buys twitter for $44 billion
May 11, 2022
Elon Musk, chief engineer at SpaceX, early-stage investor, CEO and product architect of Tesla, inc is now also the private owner of Twitter. On April 14, 2022 Musk sealed the deal with Twitter to buy the company for $44 billion. His pursuit of the popular social media platform was not inspired by monetary gain, but instead so that he could turn twitter into "an inclusive arena for free speech", as he stated in a Tedx interview given after announcing his bid. 
Musk calls himself a "free speech absolutist", and he plans to apply this ideal to Twitter by loosening or even getting rid of a lot of the guidelines.
There is speculation that this could mean former president Donald Trump will be allowed back onto twitter, although Musk has not yet confirmed that and Trump himself said that, even if his account were to be reinstated, he is not going back to Twitter and will stay on Truth Social, the twitter-esque social media app that Trump launched after being banned from Twitter.
However, Musk's new ownership of Twitter will certainly loosen Twitter's already meager bans. This means that any comments, whether insurrectionist, containing slurs, and/or spreading misinformation will most likely be allowed to remain on the platform, as long as what's being said is legal. Musk said that "if it's a gray area, let the tweet exist". Currently, Twitter has guidelines against harassment, abuse, posts that wish physical harm to someone, and misinformation related to COVID-19, although this is subject to change.
The main offense that people have taken with Musk's fanciful billionaire agenda is that there are a plethora of things that his $44 billion could have gone towards: good causes that the majority of people believe would be more beneficial to the general population than less guidelines on an already not-so-strict social media platform
Musk actually got close to committing to one of these humanitarian efforts; the director of the United Nations' World Food Programme (WFP) was recently engaged in a back and forth with Musk about a $6.6 billion plan to "combat world hunger". The WFP predicted that their plan could avert upcoming famines in struggling countries, and certainly save lives. $6 billion, to put it in perspective, is just 2% of Musk's net worth, and roughly 13% of what Musk spent on buying Twitter. To be clear, even if Musk had followed through, world hunger would not be eradicated once and for all, but it would mean large progress for a worldwide issue that otherwise may not be achieved.
Similarly, the Department of Housing and Urban Development predicts that it would cost $20 billion to solve homelessness in America, still less than 50% of Musk's $44 billion. In fact, in order to pay Twitter, Musk borrowed $25.5 billion from banks. He borrowed enough money to house all the homeless in America, and have $5.5 billion left over.
David Beasley, director of the UN Food Programme, is quoted for, after calling out billionaires, and specifically Elon Musk, for not spending some of their money on the hungry, saying  "I'm not picking on them, I'm saying 'great, you made money. Please, please help share right now in a one-time crisis'".
Musk is Twitter's largest shareholder, with a stake of roughly 9.2%. When Musk gave his final offer of $44 billion, he also threatened that, if his wish to own Twitter could not be granted, he might withdraw from the company entirely, saying "if [the offer] is not accepted, I would need to reconsider my position as a shareholder". Musk's 9.2% was worth over a billion dollars of Twitter's stocks, and if he were to have withdrawn from the company he would have caused a drastic fall in Twitter's stocks that would be devastating for the company, especially considering that it has a hard time producing any revenue as it is.
If Musk's purchase of Twitter is approved (expected to happen sometime in 2022, after being discussed at the company's next annual meeting), Twitter shareholders will receive $54.30 in cash per share and the company will become privatized.
Musk ended his message to Bret Taylor, stating, "Twitter has extraordinary potential. I will unlock it."