Unexpected Fire Drill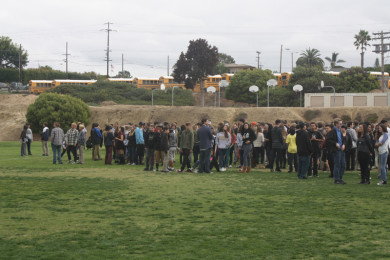 In the middle of second period on Tuesday, Nov. 19, a fire alarm went off that surprised many on the campus. There were many rumors circulating about its cause, the most common one being that a student had burnt food in Culinary Arts. Assistant Principal Doug Kamon said that this was the case. It was not a drill, just a minor classroom accident.
When asked about the evacuation, Kamon said that he thought it worked because it got everyone to safety, and that was the most important thing. He explained how the response procedure worked, and how slow it could be at times.
"The school is obligated to get students out of the school in an emergency," Kamon said, and that the evacuation procedure was simply meant to get students to safety even if it was a false alarm. It's much better to have everyone out in case there really is an emergency, because it could be a while before they were sure about the reason for the alarm.
Because the school doesn't have access to the track right now, the new emergency location is the softball field above the Mosaic Café, he said.