Torrey Pines High School Lockdown Cleared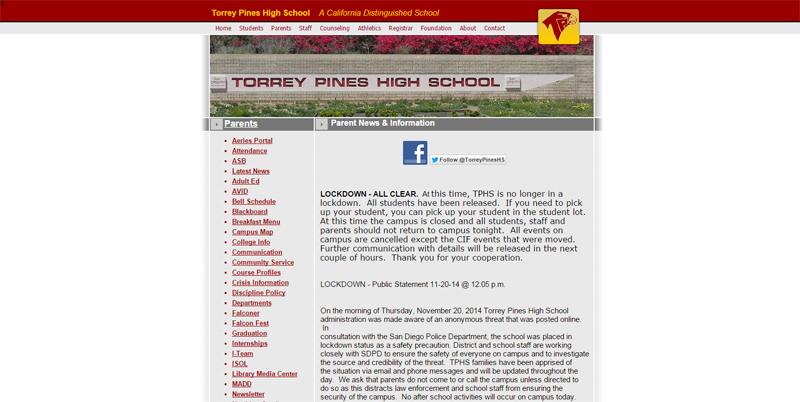 As of 2:45 p.m. today, Torrey Pines High School reported that they lockdown were no longer in lockdown.
Torrey Pines High School was placed in lockdown at 10:30 this morning after receiving an anonymous threat through the social media app Yik Yak, according to the to the Torrey Pine High School website.
After consulting with the San Diego Police Department, the school made the decision to go into lockdown as a safety precaution. The school's official Facebook informed that a phased release of students began around 1 p.m. today.
Yik Yak is an social media app that allows users to anonymously make posts, but allows other users to see within a 1.5-mile radius.
This is not the first time an event like this has happened in connection to the app. According to the Los Angeles Times, Mira Costa High School was threatened on Monday via Yik Yak in a series of posts, the first of which read, "If you go to Costa, you should watch out very closely at school today." The campus was placed under lock down and then closed for the following two days as the Manhattan Beach police investigated.
In March, the Los Angeles Times also reported on the San Clemente High School lock down in Orange County which occurred after a bomb threat was posted on Yik Yak at 9 a.m. in the morning. Members and dogs of the sheriff's bomb squad found no evidence of an explosive.
Parents on the Torrey Pines High School Facebook page also recognized the pattern this incident formed.
One parent posted a link to a Google search of "Yik yak police investigations" along with the comment "Looks like Yik Yak is frequently used for anonymous threats nationwide. Schools need to teach that almost nothing is truly anonymous on the Internet when a police investigation begins."
Another parent commented on Torrey Pines High School's response to and their own opinion on the issue.
"Glad TPHS admin are taking it so seriously and I hope Yik Yak cooperates by giving up the identity of the person(s) responsible. Nice way to ruin your life… I vote for EXPULSION."