Thespians Win Big at Annual "Thespicon" Event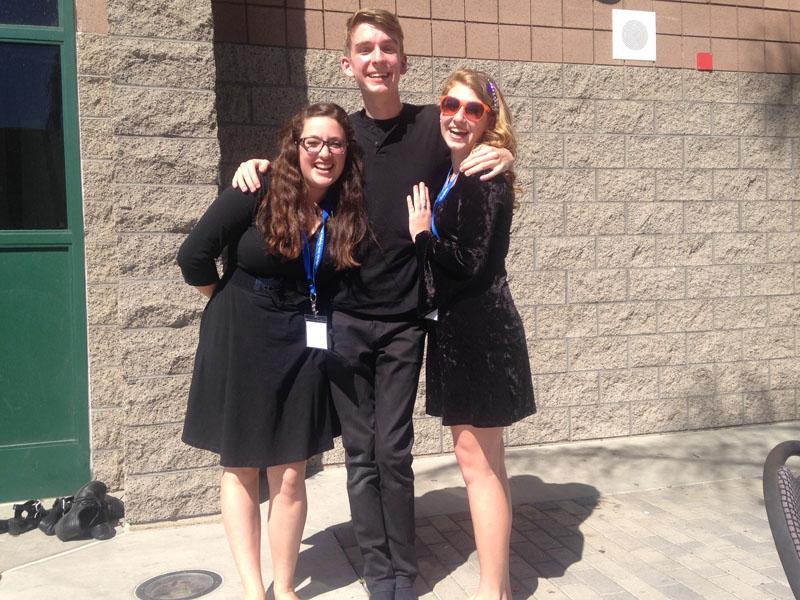 Three groups of students from SDA's drama club, Thespian Troupe #2196, won their individual events at the California State Thespian Festival this past weekend. The students had the opportunity to perform their pieces on the "main stage," the highest honor of the weekend. This year, festival was held at Upland High School, hosting approximately 1,200 attendees from around the state.
"It's a whole group of people that all have one thing in common," said junior Will Fletcher, "something that consumes their whole life in the best way possible: theatre."
Against roughly 60 other participating groups, senior Samantha Steinberg and Fletcher won for their duet musical piece, "The Song that Goes Like This" from "Spamalot." They also came in first for their group musical piece with junior Jessica Morliack, "I've Decided to Marry You" from "A Gentleman's Guide to Love and Murder," against about 10 other contenders. In the group dance category, freshmen Jenna Steinberg, Rami Ibrahim, and Stephan Read, sophomore Thea Farber, and junior Alex Read won with their self-choreographed tap dance to "King of New York" from "Newsies."
Each group auditioned before a set of judges and found out that night whether or not they received a call back. Callbacks were then held the following morning, and students were informed thereafter whether or not they placed.
While the festival kicked off on Friday, the students' journeys to reach the main stage began long before.
"We started preparing our pieces in early December," said Steinberg. Her individual event groups worked together twice a week as well as over the weekends. Once the date neared, they also met every lunch and homeroom.
"The hardest thing was making sure that our harmonies were tight and that we knew when [to] open the invisible doors," said Morilak, referring to the blocking in their performance.
Jenna Steinberg admitted that, within the tap group, rehearsing so intensively with the same people caused some "little fights" and "different opinions" regarding choreography. Ultimately, though, it only brought them closer together. "When we found out about our win, we were all so ecstatic and proud of what we accomplished," she said.
"[It] was so humbling," said Fletcher. "Spending the time and energy really paid off."
Every performer described the experience of performing on the main stage as surreal.
"At first you think it's just like any other performance that you've ever done," said Morilak, "but then you look out and see about 1,000 little heads watching you."
Samantha Steinberg said that she wasn't as nervous about herself as she was about her group compared to the others. Once their song started, though, the butterflies died down. "I was just flooded with excitement," she said. "It was such a professional experience and really gave me a sneak peak of what it might be like for me in the future, performing for large audiences in a very large theater."
"All the thespians in attendance are amazing," said Fletcher, "but getting to perform in front of my own thespian troupe was an absolute privilege. I would not be where I was without their support."