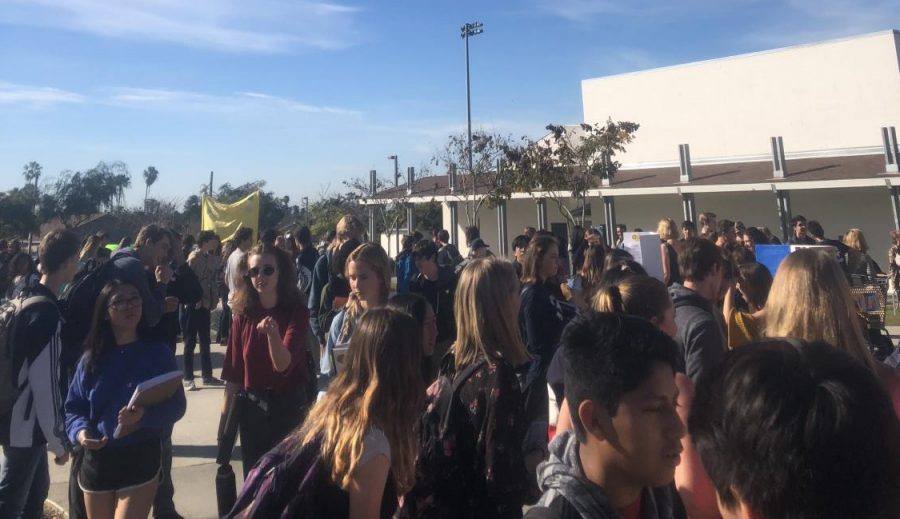 The First Rule of Club Fair is DO Talk About Club Fair
February 5, 2018
A variety of clubs were showcased at the SDA Club Fair, which occurred during homeroom and lunch Friday.
Many booths were set up exhibiting diverse student run clubs, some including Thespians, Writer's Block, Young Leaders in Health Care (YLHC), Mission Mustang, and the Animal Care Club. Each club has its own identity and purpose: the Thespians are the on campus theatre group, Writer's Block is the Creative Writing club that produces a book of student written poetry and stories each year, and the Animal Care Club works to raise money and awareness for animals in need.
The club fair was an overall success this year, students and administrators said. Junior Taylor Thompson said, "I find it very beneficial to learn about what is going on around SDA and to learn about how people are using this school to create movements or spread what they are passionate about."
According to Assistant Principal Dr. Celeste Abdelnaby, the staff sees the Club Fair as something notable about the school. Abdenaby said, "I find it [the Club Fair] very beneficial. I am learning about clubs that we have here that I wasn't aware of, and it is fun to see what kids are passionate about outside of the classroom."
Not only is this club beneficial for students to get more involved at school, but it also brings together the staff, adding the true sense of community here at SDA.
Here is a little information about a few clubs showcased during the Club Fair:
Thespian Club
"We do theater, what brings us together is performing arts and the technical aspect of theater. It's really fun and you get to make a lot of friends, and everyone is very kind. Most of my friends I have made at school are through this club, a lot of friends for life! This is different than the elective because when you are in a theater class you can make a lot of friends and put on a production, but it is a lot easier to make friends in thespians because thespians club includes everyone, everyone from all of the classes! We have about 60 members," senior Julie Daughters said.
Community Performing Arts Club
"We do a lot of things. We do performing arts events to benefit charitable causes. Recently, we put on Whimsical Winter Show, and were able to raise $4,600 for Rady's Children's Hospital that we hosted right here at SDA. This semester we plan on doing some senior performances and some other projects as well," senior Olivia Hussey said.
Writer's Block
"This club has existed since 1998; it is one of the oldest clubs at SDA. Every year since then, we have published what is called The Thread which is an anthology of student art and writing from SDA," senior Claire Loudis said.
Young Leaders in Health Care
"Every month, we attend lectures by medical professionals, often at SDA or the community center at Scripps. We talk about careers in healthcare and pathways into the medical field."
"The club was inspired by Dr. Cardi, who worked at Scripps, who started the club at SDA when his daughter attended here. This club occurs across multiple districts, not just SDUHSD," sophomore Marley Jaoudi said.
MECHA
"We just learn about Chicano and Mexican Culture! We talk about immigration! We are actually going to have an event in March, a movie night, and charge is bringing in can food and socks. The proceeds from that go to donations for immigrant people."
"After going to a MECHA conference at SDSU, we just started it up and spread the word on Mexican-Chicano culture," junior Carlos Velasquez said.
Mission Mustang
"First of all, we meet on Fridays in the ASB room at lunch every week. We have free pizza most of the time and we have speakers. We are a Christian club, but you don't have to be Christian to join! We just talk about life," senior Ashley Sayers said.
Animal Care Club
"We get together once every other week to talk about ways we can help animals. A lot of what we do is doing dog washes at local businesses to support organizations who help animals in need. We also do beach cleanups and hope to adopt a hamster from a local shelter eventually! This is a really fun way to get involved with school," junior Nancy Saltamachio said.
Mustang Minds
"Mustang Minds is an academic team where teams of five from different school compete against each other answering Jeopardy style questions that cover all of the academic subjects that you learn about in school. The club fair is really important in getting the word out and getting people equated with this club and getting people to join. Our club is looking for student who have a passion for learning whether they focus on one specific subject of just generalists if you really enjoy learning about something and exploring it in greater depth then this is a great way for you to deepen your expertise and also have fun competing," senior Klaus Neyer said.
Robotics
"First Team Paradox 2102 is a FRC team it is a part of the first robotics competition which is part of overarching organization called first robotics. We are tasked with creating a robot every year in January; we have six weeks to do so. It is entirely student built and we go through the programming, the design, manufacturing, everything, all ourselves. Then we go out and compete all throughout the spring. We function like a small business, so we have four different executives aside from the all team presidents. We also have engineering outreach, marketing and operations. There is no prior experience necessary, anyone who is driven and ready to work towards a cause, we will teach you whatever you need to know," junior Sarah Parks said.