What You Missed at the Forum Today
March 9, 2018
Discussion about the walkout and sexual education dominated the student forum today at lunch in the new building courtyard. Natasha Gardner, junior, and Faith Kelly, senior, facilitated the conversation.
A main topic of conversation was the walkout planned for March 14. Counselor Carolyn Lee spoke on behalf of the staff saying that while the event is not school sanctioned, there will be no consequences for leaving class for the walkout. Student are allowed to leave class from 10 to 10:17 a.m., during second period, and must return to their classes promptly.
Failure to stay on campus or return to class will result in attendance related consequences. Principal Adam Camacho later confirmed Lee's comments and said the superintendent, Eric Dill, will send a note to parents about the details of walkout, including consequences for abuse of the right to assemble during class time.
Stephen Baker, junior, said that students across the nation will be walking out in solidarity for the victims of the shooting in Parkland, Florida, and "…in solidarity for the lives lost across the US, across the world, from gun violence."
According to Baker, the walkout is "not a political debate," but there is the opportunity for students to bring signs supporting political messages, as long as the messages are school appropriate and the signs are not on sticks.
He reminded students to convene in front of the Performing Arts Center (PAC) for three speeches by Baker, junior Franchesca Finley, and senior Olivia Hussey. They plan to talk about the importance of the walkout, what students can do to help at SDA, and what can be done at home and in public to raise awareness and change gun control laws. During lunch on the day of the walkout in the new building courtyard, there will places for 18-year-olds to register to vote; minors will also be give a chance to pre-register.
Sexual education was also discussed, as many students felt that Edgenuity–the current health course given at SDA–is insufficient. Agnes Lin, junior, expressed her concern, saying sexual abuse exists on campus and that better sexual education will help teach people "how to handle themselves."
Some students agreed with Lauren McCormick, junior, who said PE teachers should be trained in the health curriculum so students won't have to learn from "hard to understand" videos. Others disagreed with her, like senior Rachel Kaplan, who thinks our PE teachers shouldn't be responsible for teaching sexual education and there should be a stronger focus on it in 5th and 7th grade when sexual education begins. Others advocated for health being its own course.
Camacho responded by thanking students for their passion about sexual education. If there are students interested and passionate about reforming the health and sexual education program at SDA, Camacho asked that these students get in touch with the administration and the school board/district offices.
The principal ended on an uplifting and sincere note, telling the students without a microphone that he, the entire staff, and PALs, are all there for students. "Safety is a priority," he said. "Please come and talk to us if something happens to you or someone you know," promising a swift investigation and help to all students.
Next forum, turning the men's restroom north of the Media center into a gender neutral bathroom and sexual assault and harassment support on campus will be discussed.
About the Writer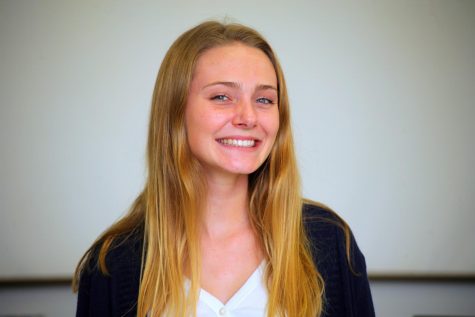 Madison Vance, Staff Writer
Where does your lap go when you stand up?