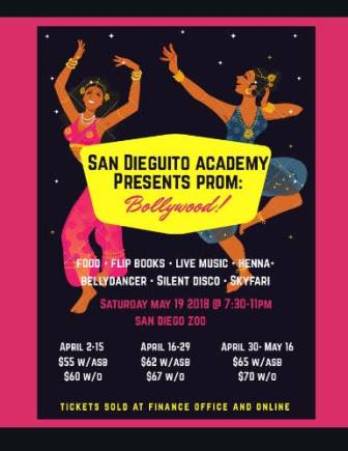 Taken from San Dieguito Academy
Cultural Appropriation or Appreciation? Upcoming Meeting on Prom Theme
April 24, 2018
After students voiced concern over cultural appropriation, a meeting is being held to discuss the Prom's "Bollywood" theme, according to ASB teacher Rod Keillor. The open forum will be hosted by ASB and take place Friday during lunch in room 70.
"We wanted to have a dialogue and discussion with those concerned, to discuss the difference between Cultural Appropriation and Cultural Appreciation. It can be tricky to navigate between the two," Keillor said.
The meeting is being held to help show the intent of the event, and ASB is not planning on changing the theme. "When the prom committee picked 'Bollywood' they wanted to be super sensitive and respectful in how they planned it. They wanted the theme to be a celebration and appreciation of a beautiful culture," Keillor said. "We were not expecting a backlash but understand why it happened."
ASB hopes that the meeting will help to quell complaints and clarify the steps that have been taken to be respectful. "We look forward to a great evening – where we can respectfully celebrate and appreciate a culture that is different than ours," Keillor said.