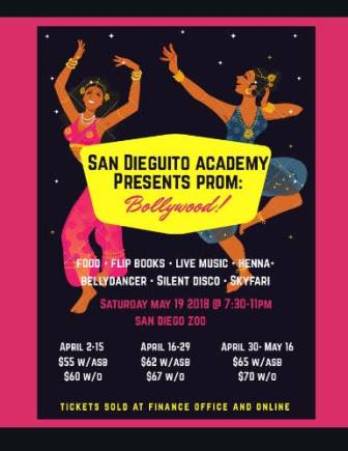 Taken from San Dieguito Academy
Bollywood Prom Theme Faces Harsh Criticism from Students
April 27, 2018
This year's Bollywood prom theme was met with raised eyebrows and skeptical glances when ASB introduced it to the student body. Several students raised concerns about cultural appropriation, and a forum was held on Friday to discuss the concerns of the students and the reasoning from the junior directors.
"We wanted to have this meeting…to educate you guys on what the steps are we took when we went through the process…to make sure that it wasn't cultural appropriation, but it was cultural appreciation," said Holly Cook, one of the junior directors who was in charge of planning this year's prom.
Cultural appropriation or taking things from a culture that is not your own without showing that you understand or respect the culture, was a concern for many of the students that gathered at the meeting mainly because they were worried ASB's depiction of Bollywood would ridicule Indian culture.
"We felt that we really understood [Bollywood], and we obviously have respect for it," said junior director Tasha Gardiner. According to Gardiner, the junior directors had been planning prom since last year when they were first elected. They decided on Bollywood to give prom an interesting theme rather than, according to Gardiner, "having every dance be a Winter Ball."
After doing extensive research, the conclusion was that Bollywood is just a movie industry similar to Hollywood with no ties to nationality or religion. "We didn't think — we still don't think — that Bollywood has any connections with Indian religion or culture." said Gardiner.
The students, however, didn't seem satisfied.
"There are a lot of ignorant people at our school and I'm worried they're going to do the culture damage," said an anonymous student at the meeting.
"We will try to educate more, that's a valid concern…but we're just going to be dancing and having a good time. We don't think anyone is just going to be sitting in a corner and just talking about how bad the theme is," said Cook, "if it bothers you so much just don't go to prom…or dwell on the theme."
Many of the concerns came from the fact that Bollywood, though it didn't directly represent any religion or race, was undeniably part of Indian culture and was in danger of being misrepresented especially since SDA is primarily Caucasian.
"A lot of Indian actors are discriminated against in Hollywood, which is an American movie business…the story of Bollywood is the story of underdogs, people who can't always get the same fame in Western culture….Hollywood isn't associated with our religion, but it's still America," said one student.
"Bollywood only exists because of that pushing down, from the discrimination in Hollywood. It's like adding insult to injury, saying we're not accepting you into our culture and then we're going to mock you." said Katherine Weinzierl, a senior.
"Some people don't have the luxury of deciding whether or not to dwell on [the theme]. My friend is half Indian, and she is offended by this theme," said junior Madeline Laroche. "Including the place where it's held, the zoo, it's like an added layer of 'oh it's an exotic culture.'"
Many other students wished that the junior directors would have chosen some other theme that wasn't as controversial.
"They could have done something like 'Night in the Jungle,' especially since it's like, a zoo." said sophomore Lynn Nguyen. "Like panda masks — that shit is cute. Less controversy."
According to ASB president Jeremy Romero, junior, it would be too tough to change the prom theme this late into the game, but the junior directors plan to make posts on the school's social media accounts informing students about the concerns regarding misrepresentation of Indian culture.
"There was just a lot of miscommunication. They did a lot of research, they didn't want to do a basic theme… but I think it's really great that we can have a discussion like this," said Romero.