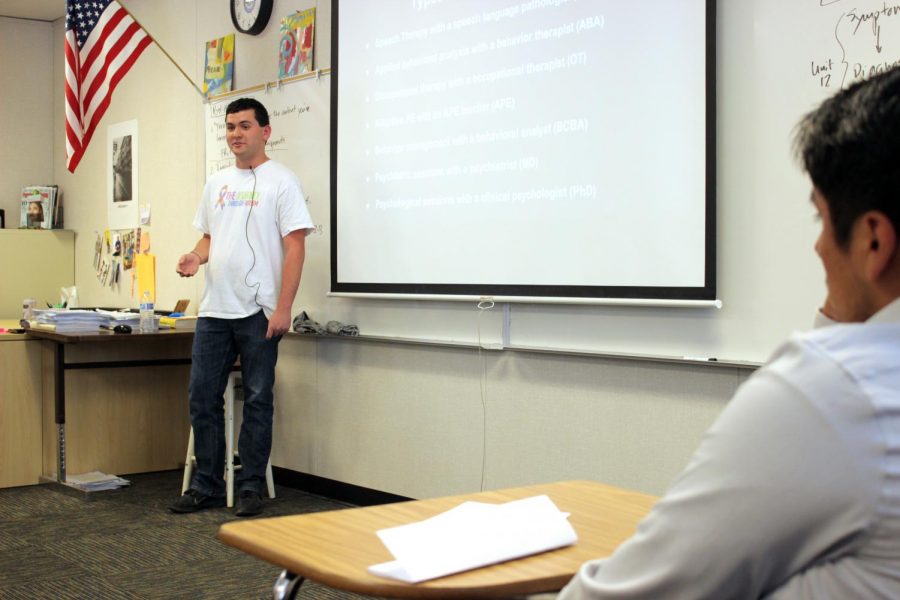 Ethan Hirschberg Educates AP Psychology Classes on Autism Spectrum Disorder
June 7, 2018
Sophomore Ethan Hirschberg has High Functioning Autism and talked about his goal to increase the acceptance of people who live with autism in presentations to the AP Psychology classes Friday. A recent study that Hirschberg referenced said that, "1 in 59 individuals have an Autism Spectrum Disorder," and Hirschberg is on a mission to raise awareness, he told teacher James Hrzina's classes.
When he was two years old, Hirschberg was officially diagnosed with Autism Spectrum Disorder. Hirschberg described how he struggled to understand his diagnosis until he was 10 when his parents found a way to help him understand.
Hirschberg first explained to the class the differences between low functioning, moderate and high functioning autism. During this discussion, Hirschberg went into detail about High Functioning Autism by using personal stories. While explaining stimming (a self-stimulatory behavior that is usually a repetition of movements or sounds), he stated, "I was about a block or two away from my house, I jogged across the crosswalk, I stimmed so I had to touch the ground, and a car came and hit me right on." Hirschberg jumped straight up into the air, landed on the car's hood and his fall was so hard that he even broke the head light of the other car. He exclaimed, "That was a fun police report to file!"
Hirschberg then went on to explain noise sensitivity. He can hear the projector humming, the bicyclists that just pedalled by outside and even the buzzing of the light in the classroom. In his presentation, Hirschberg made the class laugh when he pointed out how he could hear the students whispering in the corner and the student that was trying to quietly open a bag of chips.
After much more discussion, Hirschberg concluded his talk by discussing hyper focuses, a very intense passion and interest in a specific subject. Hirschberg entertained the class by explaining how when he was younger he had a hyper focus on police and firefighters. Hirschberg studied and knew every single police radio code and went around communicating to his parents and family in code.
He said, "I had to best time of my life doing it." Then as he got older, his hyper focus shifted to business and entrepreneurship. He described how he has had lots of great business experience and now has a passion for business and even math. "The weird numbers you find in a calculator, I do that in my head," he said. Hirschberg now runs his own consulting firm (Ethan Hirschberg Enterprises) where he helps bloggers and authors effectively communicate the value of their blogs or any service.
Hirschberg wrapped up his discussion by talking about his social life at school. He explains how SDA is one of the only school environments where he hasn't been bullied. He stated, "I don't have too many friends, I can't tell too much between what's a friends and what's an acquaintance."
Hirschberg discussed how SDA made such a large impact on his social and personal life, "Just the culture, it is a great place to be!" He encouraged students when they are walking around campus to just say hi. "That makes my day!" he said. "That is the best feeling in the world to me!"
Some final tips from Hirschberg included: be a part of this greater community and lend a hand to end the stigma on mental illnesses: "Just know enough to say, that's not true." Also, for all of the teachers out there, please use a blue or green pen instead of a red pen, just this tiny change can make a huge difference. People automatically (psychologically) associate the color red with negativity. So, someone who gets a C grade will feel better about themselves if the paper was corrected in any other color besides red.
Hirschberg even has his own blog where his shares his story, successes, insights and advice. "I have created this online community where people can connect and share experiences," he said. His blog now has over a million viewers in 28 different countries. Hirschberg explained how when he reads the stories his viewers share with him, "They make my day all the time and it is absolutely amazing!"
Hirschberg's blog can be found at https://www.thejourneythroughautism.com.
About the Photographer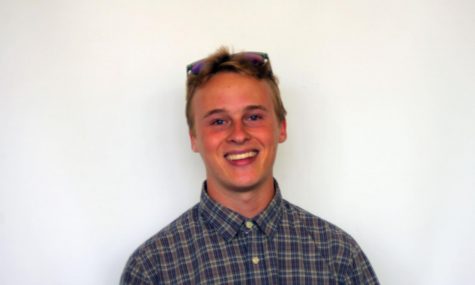 Patrick Hall, Photo Editor
My name spelled backwards is racecar.