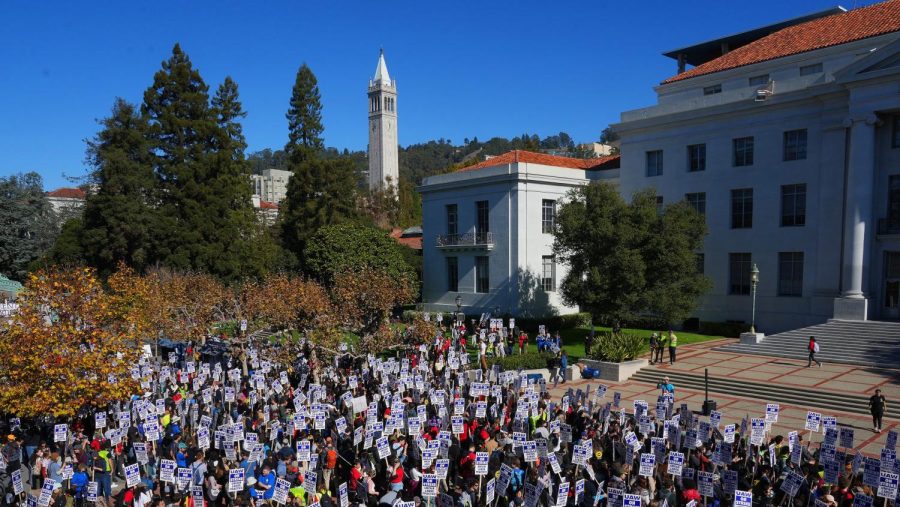 Thousands of UC workers strike
The evolving protest mirrors local bargaining, foreshadows future efforts
November 16, 2022
The University of California (UC) system is one of the largest and highest regarded in the world, but for now, learning is on hold. Three unions, made up of around 48,000 workers and faculty members, authorized their members to go on strike to demand increased pay and better working conditions. 
Strikes, which started yesterday, November 14, are being held at the ten University of California campuses, in addition to a research lab at UC Berkeley. The main union at play here, UAW (United Automobile, Aerospace and Agricultural Implement Workers of America) was founded in 1935 and adopted thousands of UC staff after they successfully protested in favor of unionization last year. 
Although the proposed wage increases would put the salaries of UC staff in the same bracket as some of the top research Universities, many of the strikers argue that the price of living in California warrants that. Many employees have had to pick up second, or third jobs, and say that most of their salaries are going towards rent. 
The demands, as seen on their strike website, include a raise to $54,000 a year as a base salary for workers, healthcare benefits, public transportation passes, childcare stipends, paid parental leave, and fully accessible software for disabled employees. There has not been much movement for bargaining so far, but the strike is scheduled to go on indefinitely until some or all demands are met. 
We have seen some of the same action locally, with the San Dieguito Faculty Association union bargaining on behalf of our school employees and staff for a renewal of their contract with the district. There has been a lot of pushback from taxpayers who don't want more money being used for education funds, but as housing prices keep rising, educators continue to struggle to keep up with the costs of living. 
In our district and in the UC system at large, something becomes clear; teachers' working conditions are students' learning conditions. At UCs statewide, numerous classes have been canceled, and hundreds of students' learning is on pause while the strike continues. In our school district, even though the union contract was renewed, salaries are still on the line, and many teachers and staff remain anxious about changes to come. As we discuss improvements for student-teacher relationships, we should remember that these anxieties about wages and fair pay find their way into our classrooms. We should prioritize our teachers' and staff's well-being, and in turn, they'll be able to continue to support us.