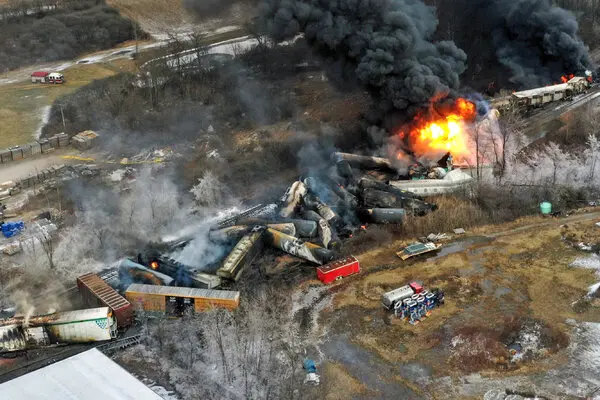 Chemical derailments in Ohio
Dangerous derailment in Ohio spills chemicals near a town.
March 22, 2023
On February 3, a Norfolk Southern train derailed in Ohio near a town with over 4,700 people. The first Ohio derailment spilled one million gallons of butyl acrylate, ethylene glycol, ethylhexyl acrylate, isobutylene, and vinyl chloride. 
Vinyl chloride is toxic to humans, and the short-term effects of the chemical can cause irritation to the throat, eyes, nose, and lungs. It can also cause dizziness, drowsiness, headaches, and nausea. The prolonged effects of vinyl chlorine can cause permanent nerve damage as well as many forms of cancer. The gas is also highly flammable. 
Soon after the train crashed there was an evacuation order for the surrounding towns on February 4th. On the 5th, government officials warned residents that refused the evacuation order to reconsider as there was a danger of a potential explosion from the chemicals. 
After a controlled burn of the vinyl chloride and removing other harmful chemicals. Environmental scientists did multiple tests on the air, soil, and water. It was concluded on the 8th that residents that were affected could return. 
Residents who were affected by the derailment have begun a class lawsuit against the company Norfolk Southern. The Ohio State attorney has also sued the company for its multiple derailments, as a month after the first derailment another Northfolk southern train derailed. 
The accident was completely avoidable, experts as the derailment was caused by a loose wheel bearing. No one was hurt, and no contaminated materials have been released in the second derailment. It is unknown what exactly Ohio is suing Norfolk Southern for. "This was an epic disaster. The clean-up is going to be expensive," Ohio Attorney General Dave Yost said.  
The lawsuit also calls for Norfolk Southern to pay for damages it caused, cleanup efforts, and soil and water monitoring for the years ahead.
Norfolk has offered 20 million dollars to help the Ohio community recover from the incident. Norfolk Southern has stated that they want to help the communities affected by the disaster and have said on multiple occasions that they are listening to the communities of Ohio. "has been to make it right for the people of East Palestine and its surrounding communities" a representative stated in an interview. Norfolk will help with tailor protection to landowners looking to sell property that's value went down because of the derailment. 
People dealing with the fallout of the recent derailment are still in legal processes against suing Norfolk Southern