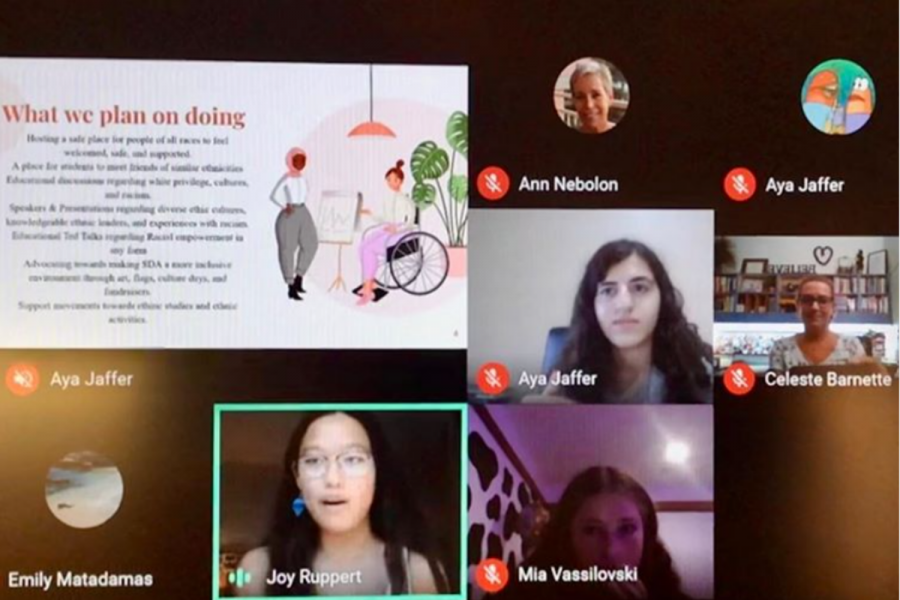 Club Fair Introduces SDA's Clubs For The 2020-2021 School Year
The first virtual Club Fair at SDA was held Friday, Oct 2
October 7, 2020
Every year SDA holds a club fair, where the schools' different clubs advertise themselves in hopes of attracting new members.  Usually, this event takes place on campus, but this year Because of Covid-19 it was done online through google meets. The following is a small sample of the clubs available this year. 
Having A Voice is a club all about giving students a safe space. Led by students Giselle Perez and Lesley Morales, seniors,  with virtual meetings from 3:30 to 5:00. The club offers a place for students to share their feelings and emotions without judgment. During meets, students learn leadership roles, how to manage emotions, and finally, they learn of volunteering opportunities. They also offer a two-week-long summer leadership program.
Multicultural Anti-Racism Coalition also known as M.A.C. was started this year by Joy Ruppert and Aya Jaffer who are both sophomores. Their plan is to use their club as a platform to allow student voices to be heard and to spread diversity. It is a great opportunity to join a club that will make you feel welcome and help you learn more about racism and other ethnicities. They meet two Thursdays a month, starting this Thursday, at lunch.
Writer's Block is run by Nicole Park, senior, and Mia Laffiette, junior. Park describes this club as, "a community", and Laffiette said it is a "group of totally awesome people." Writer's Block revolves around open mics, peer reviews, the thread, and essentially is a place to get feedback as well as enhance members' writing skills. They meet every day, starting this Thursday, at 1:55.
The Embodying Self Love Club was started by juniors Ellika Mohler and Manelle Touzni. Body positivity, acceptance, and loving your natural appearance can be a hard thing to teach, and that's what Mohler and Touzni are aiming to do. "We're kind of just a body positivity club. We're trying to normalize normal eating and body types, and stopping the comparison attitude," says Mohler. Touzni adds that the club wants to help "yourself in ways you didn't think you could." 
Though it may not have been the usual club fair at SDA with students flocking from booth to booth and clutching flyers, it was a communicative, new way to learn about the clubs for the 20/21 school year. 
Contributions by Michael Brown, Julia Czajkowski, Eliza Gibbs, Skylar Martin, Kaya Simcoe