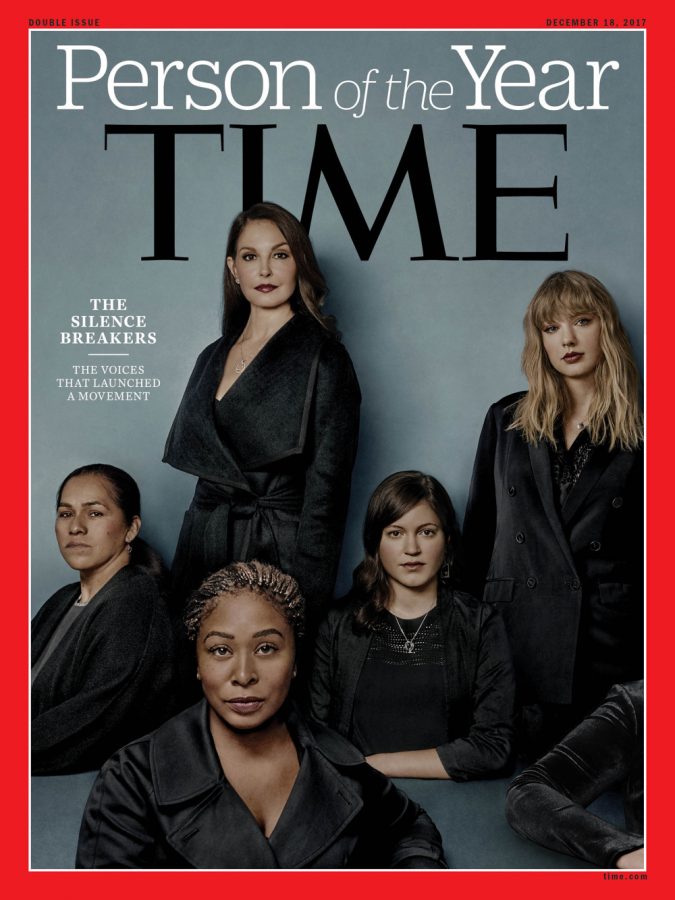 Photo courtesy of TIME official website.
TIME Magazine Recognizes the Silence Breakers
December 13, 2017
TIME magazine has stepped forward with a unique choice for 2017's Person of the Year. In fact, this person could be your neighbor, your classmate, or maybe someone you saw in the grocery store the other day. This year, TIME magazine is acknowledging each and every one of the millions of sexual harassment victims as the Silence Breakers.
#MeToo isn't just a hashtag, but rather a process that evolved into one of the most powerful occurrences in social media history. The more attention #MeToo receives, especially through milestones like TIME magazine's recognition, the more pressure is put on the accused politicians, actors and others in the public eye to step down.
The cover of the magazine proudly features six women whose individual acts of courage have made a significant impact in the movement: actress Ashley Judd, singer Taylor Swift, corporate lobbyist Adama Iwu, a strawberry picker under the pseudonym Isabel Pascual, former Uber engineer Susan Fowler, and the arm of an anonymous young hospital worker from Texas on the lower right-hand corner of the cover, representing all those who are not yet able to come forward with their stories and identities. However, I couldn't help but wonder, "Why are there no men on the front cover?" Even one male representative in the portrait would have brought light to the large, yet lesser acknowledged community of male sexual harassment victims.
Not to mention, I find it ironic that the runner up for Person of the Year was Donald Trump. At least 19 women have come forward with allegations of sexual misconduct against Trump, dating back to the 1980s, so naming him as runner up undermines the whole cause. In my eyes, TIME magazine made the right decisions by choosing to support those who have suffered through sexual harassment, rather than one who is accused of it.
"It shows how we as a community are standing up against rape culture," said Caolinn Hukill, a freshman, "I think it will allow more men and women feel that this isn't ok and that it's not their fault and they can talk about it."