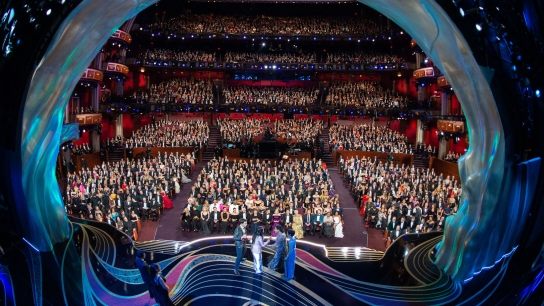 Photo Courtesy of The Oscars Official site
Opinion: "Roma" should've won, "BlacKkKlansman" maybe, but not "Green Book"
February 25, 2019
I actually took the time to watch all of the Best Picture nominees, plus "The Wife" and "Can You Ever Forgive Me," which got Best Actress nominations. So basically, my opinions on the Oscars are about two percent more relevant than anyone else's. I want to rant, so I'm gonna shove everything I believe down your throats. But hey, if you didn't see the Oscars, why not get your recap here?
Best Picture:
"Green Book" won. I'm not that hyped. Here's the thing: "Green Book" was an enjoyable movie. It looked nice and it had a heartwarming story. It was nothing special, though.
Also, this was not some groundbreaking movie about race. It was told from a white perspective and it seems like it was made for white people. Because despite all the bad things that were going on in the South, the good people of the North were there to fix everything. Sure, Tony Lip was kinda racist at the beginning, but after driving around for a month or two, all that was fixed. It's not really how things work, but it does a lot for white guilt.
Let's compare it to "BlacKkKlansman." This movie showed the KKK and white supremacy — both in the seventies and 2018. Also, and I feel this may have been overlooked, it talked about racial identity. It talked about what it meant for Ron Stallworth to be the first black cop in Colorado Springs and how that fit with the movement for black rights.
And then there's "Roma": the movie that was predicted to win Best Picture. I loved "Roma" and I was looking forward to seeing it win. Originally, I was not excited about this movie because it seemed like it would be a "good" movie that was really just boring. But I found it engaging, emotional, and extremely impressive.
Besides the quality of the films, there was a lot of controversy around "Green Book," from anti-Muslim tweets to debated inaccuracies. It was a surprising win and one that I can't say I'm happy about it. But I'm also not as mad as Spike Lee.
Best Actress:
Glenn Close didn't win! To be clear, that's an indignant exclamation point. I was really rooting for her. Glenn Close starred in "The Wife" — a movie that missed out on Oscar noms other than Close's — and did an incredible job. No shade to Olivia Colman, though. She did a good job in "The Favourite" and really showed the struggles brought on by gout (and being manipulated by people who pretend to love you). Also, her speech was hilarious, and if you haven't seen if you should definitely watch the rollercoaster of relatable emotions that it is. But even she is on my side — in her speech, she said "Glenn Close, you've been my idol for so long. This is not how I wanted it to be."
Best Actor:
Rami Malek won the award for being able to speak with giant prosthetic teeth. Or something like that. It's cool that Malek is getting more recognition and he did do a good job as Freddie Mercury in "Bohemian Rhapsody." Christian Bale was the favorite for his role of Dick Cheney in "Vice," and I was totally on board with that. The thing I found so notable about Bale's performance was that it never seemed like he was Christian Bale acting as Dick Cheney — he just was Dick Cheney. I was definitely a bit disappointed, but I'll muddle through.
Best Supporting Actress:
I'm actually happy with how this one turned out. Regina King won for "If Beale Street Could Talk" which was an incredible movie. Let me go on a quick tangent about how "Beale Street" was snubbed. It was such a beautiful movie with great cinematography and score, and it addressed racial issues as well as universal themes of love and family. Anyway, back to Regina King. She played a mother with so much depth and emotion without being over the top. Amy Adams was probably the second best, playing the ever-so-lovely Lynne Cheney. She deserves an Oscar, but Regina King was better this year.
Best Supporting Actor:
Yes, it's a little weird that Mahershala Ali was the supporting actor, but he definitely deserved an Oscar. In the movie "Green Book" he played Dr. Don Shirley, a famous pianist, who goes on tour in the South. Ali did a great job of creating a refined and elegant man who was firm in his beliefs, and then showing him break down. One scene in particular (spoiler alert?), Ali shows his vulnerability and emotion, saying "if I'm not black enough, and I'm not white enough, and if I'm not man enough, then tell me Tony, what am I?" Finally, his character breaks down and reveals his loneliness, and Ali did a phenomenal job. Ali really stood out in this category, although Adam Driver was great in "BlacKkKlansman," especially when addressing his Jewish identity. But Ali definitely earned this win.
Other:
So, after all the Kevin Hart controversy, there wasn't a host. And it turns out, the Oscars did just fine (if not better) without one. The show opened with Queen and Adam Lambert, who did a great job and allowed us to see movie stars bop along to "We Will Rock You." Maya Rudolph, Tina Fey, and Amy Poehler (not hosts) brought some humor before presenting the first award. Later on, Melissa McCarthy and Brian Tyree Henry dressed up as Queen Anne (with a cape complete with rabbits) and Mary Poppins respectively. It's good to know that, despite her nomination for a dramatic role, McCarthy hasn't lost her funny side. There were historic wins by black women in the costume design and production design categories, both with funny and moving speeches. Bradley Cooper and Lady Gaga performed "Shallow" (I mean I guess other people performed songs that got nominated, but we all knew who was going to win) and it was Lady Gaga so it was good and Bradley Cooper really CAN sing. Spike Lee was quite the character. He won for best adapted screenplay, but lost on best picture (and was upset about that, although they didn't really air it). Julia Roberts, who presented the Best Picture award, took the burden of closing out the show because that, it turns out, is one thing a host actually does.