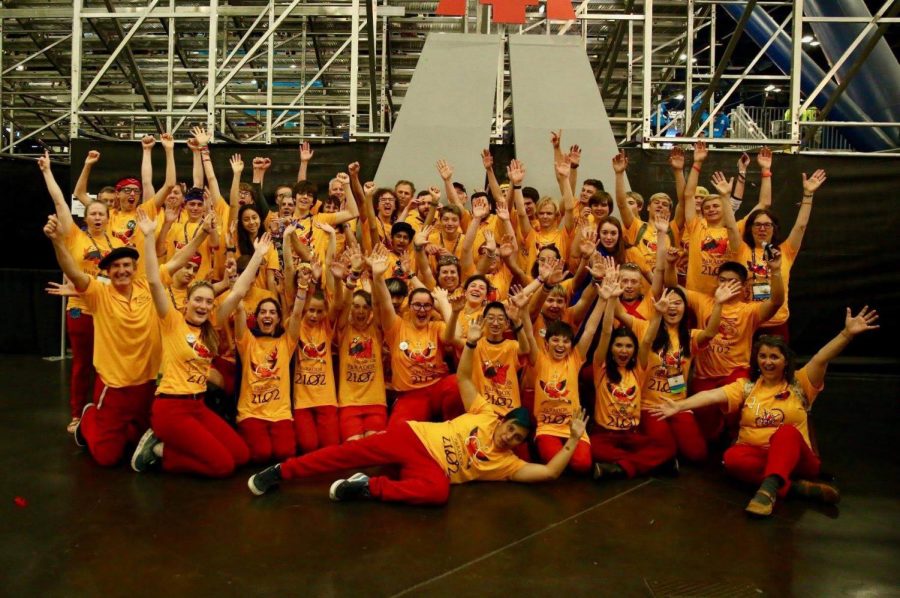 Photo courtesy of George Stimson.
Opinion: Team Paradox Soars at the FIRST World Championship
April 24, 2019
Over 300 teams from around the world gathered this past week at the FIRST World Championship at Houston, Texas from April 17-20.
The event, which was held at the George R. Brown Convention Center, celebrated STEM innovation and inspiration. The teams competing were either regional winners, Chairman's Award winners, Engineering Inspiration Award winners, Rookie All-Star Award winners, and/or wildcard teams. These prestigious awards listed are received by teams who "[transform] the culture in ways that will inspire greater levels of respect and honor for science and technology, as well as [encourage] more of today's youth to become science and technology leaders" according to FIRST.
The competition was divided into three days: the first two were qualification rounds while the last day were playoff rounds. Over 30 students and over 30 mentors on the team filled the stands during each match. At the end of first day, we were ranked 4th with a record of 4-1-0, and at the end of the second day, we were ranked 17th with a record of 1-4-0.
A more difficult match lineup was the cause of our decrease in performance. Despite that, we greatly exceeded in the matches we won. In our previous regionals in San Diego and Utah, we averaged around 60 points a match. At Houston, we scored over 100 points in two matches. It was an amazing accomplish to perform so well amongst the best teams worldwide.
Outside of the competition, two events that I enjoyed included Innovation Faire and Roboprom.
The Innovation Faire allows all participants to connect with exhibitors, including sponsors, suppliers, alliances, and scholarship providers. Companies such as NASA, Boeing, and Disney had engaging, interactive, hands-on exhibits to experience.
Roboprom, which is hosted by team 399, Eagle Robotics, brings invites teams to attend their robotics-themed dance. This happens every year since some schools have prom during the championship. For I, it is an opportunity to de-stress and enjoy the company of other teams.
On the last day, Team Paradox was selected to be on an alliance with team 5892, Energy HEROs, and team 687, The Nerd Herd. We then competed in the quarterfinals of our division, Carver. Our alliance unfortunately lost both quarterfinal matches, but we continued watching teams compete for the title of "World Champion."
The finals took place at a new venue: Minute Maid Park. Two-thirds of the stands were filled with students, mentors, and parents excited to see who would win. Going to a tiebreaker match, an alliance of three California teams became the new champions. They also beat a two-time world champion in order to reigned victorious.
It was not over yet! The lights dimmed and George Lucas appeared on the jumbotron and R2D2 drove out onto the field. Both of them introduced next year's theme: FIRST Rise, The Force is Building powered by Star Wars. Teams erupted in excitement, unaware of the stadium ceiling being retracted. Fireworks then soared into the sky (and I started to cry). For the 15 seniors on the team, this was an amazing way to end our competition season. I am proud of Team Paradox's accomplishments this year.