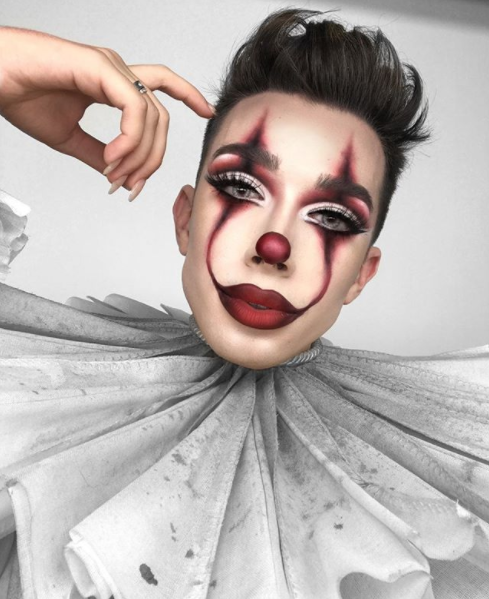 Photo Courtesy of James Charles' Instagram
Opinion: Bye Sister…
May 23, 2019
On Friday, May 10, 2019, sister James Charles was laid to rest; his lies no longer concealed, his dirty deeds highlighted in a shade of Flashback, and his sisters no longer lip-sticking with his fake ass.
Beauty guru Tati Westbrook was fed up with James' sister scandals, and decided to destroy his career by releasing a shocking exposé detailing the makeup artist/singer/entertainer/actor/comedian/stripper's behavior.
Tati started her 43 minute video by putting together a small slideshow of all of the videos her and James starred in together. She used this to help establish that James' success is all due to the hard work put in by her and her husband.
She goes on to tell her viewers about all of the immature things James has done to his family, friends, and "boyfriends". Tati expected James to grow out of his nonsense when he reached adulthood, but the fame, money, and popularity got to his head. Tati goes on to say, "You tried to trick a straight man into thinking he's gay, yet again, and somehow you're the victim," and, "It's really disgusting to manipulate someone's sexuality, especially when they are still emerging into adulthood, and don't quite have everything figured out."
This was the last straw for Sisters, and it was time for James to be cancelled. In her video, Tati addressed James' Sugar Bear-hair scandal, inappropriate behavior, and his general lack of appreciation for the people who led him to success. A couple of weeks ago, Tati offered to pay James to promote her vitamins, but James denied her offer because he didn't want to encourage his young following to buy them. A few days later, James hypocritically became an ambassador for Sugar Bear, another vitamin brand, completely going against his excuse for not selling Tati's vitamins. Then, according to Tati, James used his fame and influence to try treat men inappropriately. After hearing about this, the Sisters were outraged, and lashed out online.
James Charles has been crowned the first YouTuber to ever lose 2 million subscribers in 48 hours (does that mean YouTube gets to take their play button back?). Celebrities who unfollowed James after his scandal include (but are not limited to) Katy Perry, Kylie Jenner, Kim Kardashian, Shane Dawson, Jeffree Star, The Dolan Twins, Emma Chamberlain, and don't forget the AmAzInG Laura Lee. I bet he feels pretty sister sad right now, because the only people defending him are his brother and his parents. Even Jeffree Star snapped, and told the world that James was banned from his house because James made Jeffree's boyfriend uncomfortable.
A couple days later, Jeffree Star involved himself in the drama by making a video exposing text receipts between him and James, supposedly exposing the fact that James had also agitated Grayson Dolan, Emma Chamberlin, and others. However, viewers doubted that the text messages were genuine because of how posed Jeffree Star's text seemed. James fed into this doubt by publishing a video where he read through the texts and called Jeffree a liar. These two videos caused people to start unsubscribing from Jeffree as well as James.
After those videos shocked the media and brought the downfall of Jeffree's career, Jeffree went on twitter and said "We all need to talk… I'm never doing this again." Many fans are frustrated because Jeffree wasn't involved in the drama in the first place and interceded with posed text messages, and now he is tweeting that he will never do "this" again and that James, Tati, and him need to talk when he isn't even involved.
Tati also posted a Youtube video saying that she never expected the drama to blow up as much as it did, and that she needs to take some time away from Youtube. Her claim that she was not anticipating such a large reaction to her exposé made many fans angry because she is an adult who should know better than to solve her personal issues with James by posting Youtube videos for the entire world to see. Fans believe that she knew that James' career would be destroyed by her video, and that that was her intention all along. Currently, James, Jeffree, and Tati are all losing followers rapidly.
In conclusion, if a roach has a sister scandal, it's bound to be exterminated one way or another. I hope James and Jeffree do a giveaway once they hit 1 million subscribers! Someone get the Raid👀