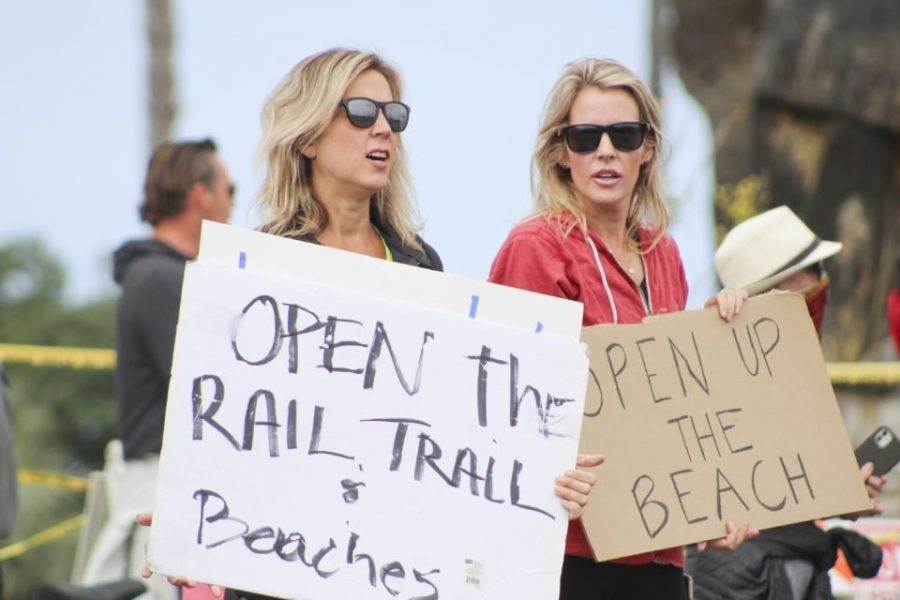 The Coast News
Protesting quarantine is a bad idea
April 29, 2020
I know we're all pretty sick of this now. Stuck at home, surrounded by our families, all attending school through the internet. I know everyone, including myself, can't wait for the day when everything will reopen and return to something close to normal. But, we also know that it will take time. If possible, we all need to stay inside to help protect the safety of ourselves and others, while flattening the curve, a phrase used to convey the idea of reducing the rate of infection by the virus to enable the healthcare system to treat the most seriously ill of people. 
Lately, I'm sure everyone has seen all of the news coverage on the recent protests regarding the closing of beaches, trails, and certain businesses. While everyone has a right to protest, we need to remember why we are being quarantined in the first place. Everyone who is able to should be staying at home in order to flatten the curve. Going out and not following guidelines issued by the Centers for Disease Control and Prevention (CDC) as well as the various local and state governments puts at-risk individuals in danger, as well as the essential workers we all rely on. Refusing to wear protective masks puts others in danger, as the mask is there to prevent you from getting others sick. You could be asymptomatic and unintentionally infect people that may be at-risk themselves, or pass the virus onto people that are. It is not just about haircuts. It is about politics. Protesters around the country have stated in multiple instances that COVID-19 was a lie "made up by the media," and say that it is not as bad as it seems. And while it is hard to know what is true and what is not, it is still important that we make decisions based on science – not politics – and all follow guidelines put out by the CDC. We have all made a lot of sacrifices to get to this point. Lifting the quarantine too soon would undo all of the progress we have made towards flattening the curve and would potentially put even more individuals in danger. 
An SDA student recently stated in an online interview that the protesters are taking their first amendment rights for granted, and that the protesters are simply putting more stress on healthcare workers as well as other essential workers by saying that haircuts are more important than the safety at-risk individuals and essential workers. "There's a fine line between exercising the right to protest, and simply endangering others." 
Donald Trump recently suggested in a press conference that we inject ourselves with disinfectant, such as bleach products. Please do not do this, as there is no evidence that proves this. Bleach and Lysol products would be seriously harmful for anyone if ingested or injected. Instead let's keep washing our hands, continue our social distancing, and do our part to safely get back to a more normal way of life.