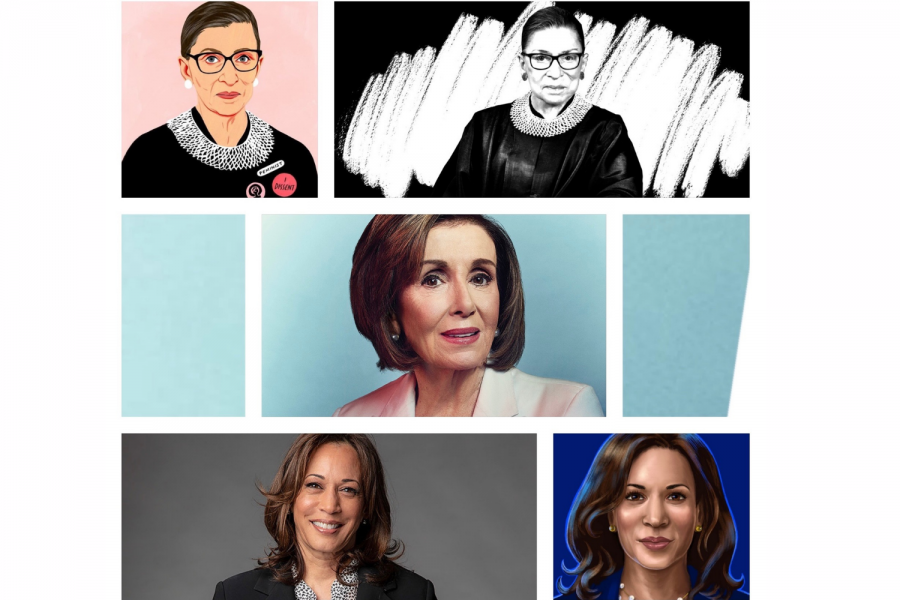 Photo collage by Molly Jackson
Opinion: Three feminists who defined the decade
January 20, 2021
Here are three of the most influential political feminists of the decade that have given people hope during these unprecedented times. These are just some of the many women who have made their mark during 2020. 
Kamala Harris
Kamala Harris is the first person of color, woman, and Asian American to be the vice president-elect of the United States and the junior United States senator from California. She has given people hope for the future and the changes that are to come.
"While I may be the first woman in this office, I will not be the last," said Harris to the Los Angeles Times.
Harris has set limitless possibilities for the future to come and all women and girls in this world, giving them a voice that is guaranteed to be heard and recognized. 
Nancy Pelosi
Nancy Pelosi, the speaker of the United States House of Representatives, and a woman with a voice. 
Pelosi is someone who is not afraid to speak her mind and voice against injustices. She has even led her efforts to impeach President Donald Trump if he does not resign from office in the wake of the Capitol events. 
Pelosi raised more than $700 million for the Democratic Party since she became the party leader, according to Los Angeles Times. Pelosi's outstanding fundraising ability, coupled with her willingness to get power within her party, and her committee assignments and other prizes, makes her an unassailable leader of the Democrats in the House.
Ruth Bader Ginsburg
The one who speaks the "Ruth" and never goes down without putting up a fight–the notorious RBG. Ginsburg spent her lifetime flourishing despite adversity. She fought for change as a Supreme Court Justice for over 17 years. Everything from gender discrimination to feminist equality. She was the voice for women in a court composed primarily of men at the time. Ginsburg made sure to be heard and never gave up.
Despite the volatility of everything she stood for, she was successful in many respects, strong-willed and intelligent. She represented all women in striving for gender equality and justice. Ginsburg never missed a beat as she was there for everything, including oral arguments, which she still attended even while undergoing chemotherapy and surgery for colon cancer, even in attendance the day her husband had passed away in 2010.
"Those who doubted her capacity to effectively complete her judicial duties needed only to look at her record in oral arguments, where she was, until her death, among the most avid questioners on the bench," according to Oyez. She was a hero who made the most of her time in the office. As Ginsburg once said, "Fight for the things you care about but do it in a way that will lead others to join you."