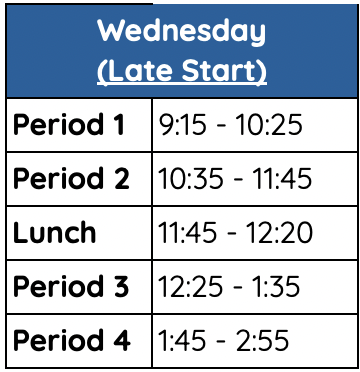 Opinion: Late Start vs Hour Lunch
The pros and cons to the new and old schedules
September 27, 2021
Late starts have been a critical part of the SDA schedule for the past several years. They began as a way for students to get the optimal 8 hours of sleep at least one night a week. Walking into the first period comfortably at 9:15 am, the possibilities are endless. From an academic standpoint, extra time in the morning can be very productive for both teachers and students. Late start allows one to sleep in after cramming all night for a test, or cram for a test after getting sleep. You can even maximize your studying potential by cramming hours into the night as well as first thing in the morning, right before that 1st period test you forgot you had. Along with the flexible study schedule, late start allows for time in the morning to spend time with friends or family. Whether it is getting breakfast, making breakfast, sleeping in, surfing, skating, doing homework, playing video games, filling out college applications, or going for a morning run, it tends to always be beneficial for all to have an extra two hours of time in the morning. Unfortunately, it tends to be especially productive when you forget about it and wake up normally on a late start day, because intended or not, sleeping in comes very easily. It is a universal truth within the high school setting that one can never seem to get enough sleep, and the opportunity to sleep in once during the week is highly appreciated.
I'm sure that everyone is sick of the short lunches at school. The majority of upperclassmen find themselves rushing to their car as fast as they can. Once you leave campus, you and your friends have about ten seconds to decide where you want to eat. You drive to said location, and fifteen minutes of lunch have already passed. You get your food, and another ten minutes have passed. You drive back to school and walk into your third period… ands a tardy is waiting for you on your Aeries. If you don't have a car, it's the same story, except you are running to 7/11. It always ends with a tardy in third period. 
This brings me to my point: students miss hour lunch. It would be a well deserved break for students to have an extended lunch period once a week, just like the past. I'm sure that the teachers would appreciate the decrease in tardies, and I know that the students would love the more relaxed lunch hour. Obviously late start is nice, and I am not complaining about having it, but it only realistically gives me an extra hour to sleep. I would rather have extra time with my friends at lunch. We are lucky enough to have an open campus, so I think it would just make sense to grant students a long lunch period once a week.