SDA Boys Basketball vs Torrey Pines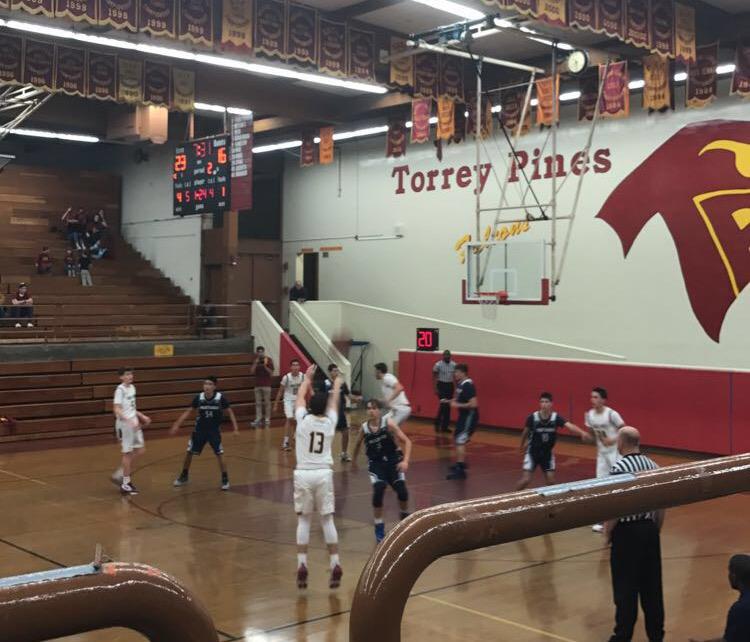 Torrey Pines High School hosted San Dieguito Academy basketball players on Friday. Many parents and students alike arrived to show support for both teams. This overall ambience allowed the highly motivated players to challenge themselves and to work to the best of their ability. This game ended with the Falcons winning 96-72.
As the referee threw the ball in the air for the jump ball start, Torrey Pines snatched it and the game began. The first 12 seconds consisted of fast sprints by Torrey Pines Players, causing them to score their first basket. Junior James Bert made SDA's first basket within the first minute of the game.
As both twins sophomores Ron and Yarin Arbib were subbed in, a trick play was evident as it confused the opposing Falcons as senior Devin Gaan made a pass to Ron Arbib and then also passed to his brother. More shots were made for the rest of the quarter by Bert who made three, a three pointer by senior Seth Frankel, and seniors Daniel Chagnon and Luke Oldham who both scored once. The first quarter ended with a score of 14-23.
Impressive shots were made that caused the crowd to go wild on the SDA side and envious on the other. Regardless of the higher score by Torrey Pines, SDA played to the best of their ability. Sophomore Travis Snider, in particular, contributed to many shots as he sprinted over to the hoop and quickly dodged the opponents. Oldham caught the rebound and made another basket. As Bert was subbed back in, he achieved in scoring in the last 10 seconds. The ending score for second quarter was 26-46.
Third quarter began, with starters Chagnon, Oldham, Matt Turcotte, Bert, and Gaan. Soon, Oldham was in for the assist and allowed for Chagnon to score. Soon after, Chagnon made a three pointer and the SDA crowd cheered. The Torrey Pines crowd tried intimidating Chagnon, however, this did not phase him. Chagnon stayed confident and focused and made both free throws. The ending score for third quarter was 49-76.
The Mustangs began the fourth quarter with determination and persistence. The Falcons caused a foul quickly which led Snider to put two impressive free throws in the basket. As the game progressed, Gaan moved quickly and intercepted a pass by Torrey Pines and moved across the court and made a shot. SDA players ended the last minute of the game with four astounding shots by senior Andrew Naimark who made two and Bert and junior Jack Hauser who each made one.
This eye-opening experience caused the fans to see all the motivated basketball players pour their hearts out into the court. "It was a fun to watch and we love supporting the team," said sophomore Maddie Garcia and junior Lena Mau.