Good Start to Spring Track Season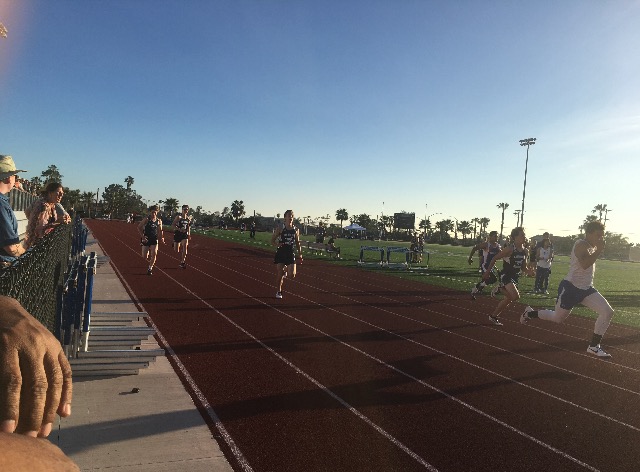 The SDA track team had a strong kick off the season during their first meet of the season against Orange Glen High School and La Jolla Country Day School, here at SDA. With personal records made, high places earned, and even a school record broken, the Mustangs anticipate an exciting new season.
From the first day of practice, the team had been training hard, preparing both for this first meet and the challenging season ahead. "The first week I literally could not walk down the stairs, I was that sore," said sophomore Lanie Weingarten.
The demanding first weeks of practice paid off for many athletes. "I think [the first track meet] went well. I had a good finish..and all of my teammates encouraged me and pushed me to my full potential," said freshman Roman De la Fuente who placed fifth in the 1600 with a time of 5:22.51.
Many personal records were made this meet, one of which broke a school record. An impressive performance by junior Kevin Ward, earned him the new pole vault record of 15 ft and 1 inch.
"Going into the track meet I was not confident at all because I had a leg injury and I knew it was going to hurt even more if I vaulted on it, so I wasn't expecting much and was going to try to take it easy," Ward said."But after my 14 foot 6 inch jump, I knew if I could push through another vault. I had a good shot at making it.
"I was elated with my jump because I knew that jump [bumped] me to number one in the county which has been my goal for a long time," he said.
After a successful kick off to the season, many of SDA's track athletes are enthusiastic about the team's potential and the opportunity to compete and bond with their teammates."I think the rest of the season will just get better because we are all so nice and we are just motivating each other to do better," said Weingarten."
The Mustangs' next meet will be held at SDA against Escondido on Thursday, March 23.