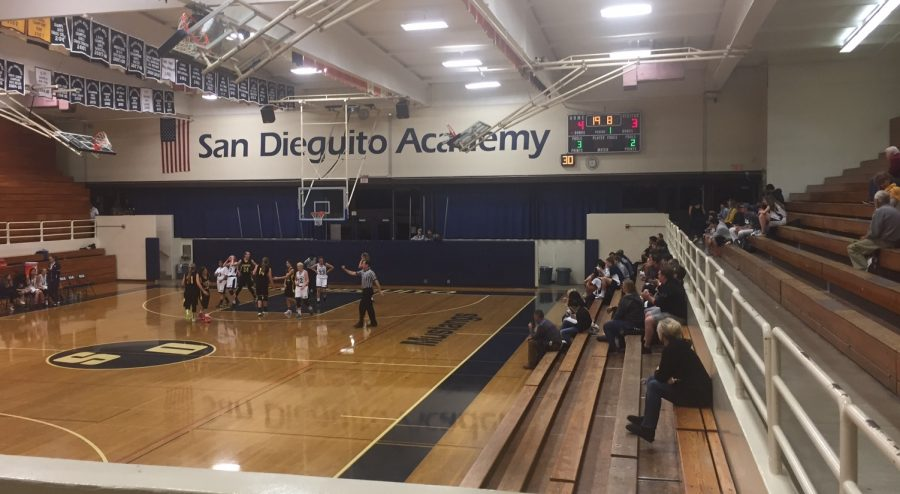 Girls Basketball Overpowers Monte Vista in CIF Match
February 23, 2018
Thunderous cheers rose from the crowd as senior Lena Mau scored the final basket in a 47-22 victory over Monte Vista, in the first round of Division III CIF playoffs last Wednesday.
"I think that our team had a lot of energy going into the game and just a strong desire to win which made us aggressive," said freshman Josie Willard.
Girls basketball will continue their CIF drive in a quarter-final home game against Calipatria Saturday.
The first quarter of the Monte Vista match began quickly with nine points scored in the first two minutes by SDA.
Several minutes of strong defense by both teams followed but was interrupted by sophomore Skylar Pavlovich. After being fouled, Pavlovich scored the second of two free throw opportunities. Monte Vista then scored a quick four points, but SDA put away four of their own, ending the first quarter with a score of 14-4, a promising lead for SDA.
The second quarter began with Willard scoring one of two free throws. Quick passes and consistent communication worked to SDA's advantage, as they ran circles around the other team. After three consecutive passes, sophomore Ady Werbelow shot a critical three-pointer, putting the score at 18-4.
The Mustangs finished the second quarter with high-intensity. A quick pass by sophomore Jackie Sedlock to Werbelow in the key resulted in a quick backboard score. SDA put away another 6 points and by halftime, the Mustangs had a lead of 26-4.
After half time, the Mustangs continued their domination on the court. Monte Vista, looking frustrated, brought tenacity to the court, but was outplayed by the Mustang offense.
Pavlovich scored a two-pointer in the key off of a quick pass made by Sedlock. After a three-pointer was scored by Monte Vista, SDA recovered the ball and netted five more baskets of their own to end the quarter with a score of 39-16.
By the last quarter, the starting lineup was replaced by freshman Antonia Billante, junior Jenna Levin and senior Lena Mau who carried their teammates to the finish with intensity and physicality. Billante's quick movement and physicality resulted in several fouls in her favor and Levin's consistent passing kept SDA organized. Mau's quick feet and clean shots resulted in three more points to end the game at a score of 47-22.
Looking forward to the CIF games, Sedlock said, "I think if we remain focused and work hard for each other, we will be successful. Our league prepares us well for CIF and I think anything is possible. It will take a lot for hard work and grit, but I know we have what it takes."
About the Contributors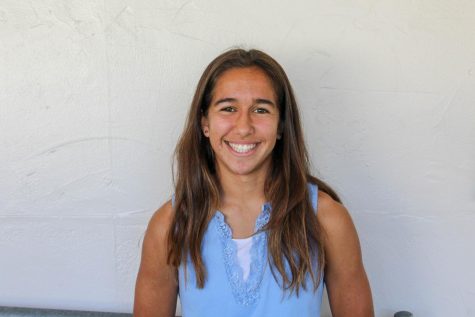 Alexis Price, Online Sports Editor
Penguins or Pancakes? You choose.