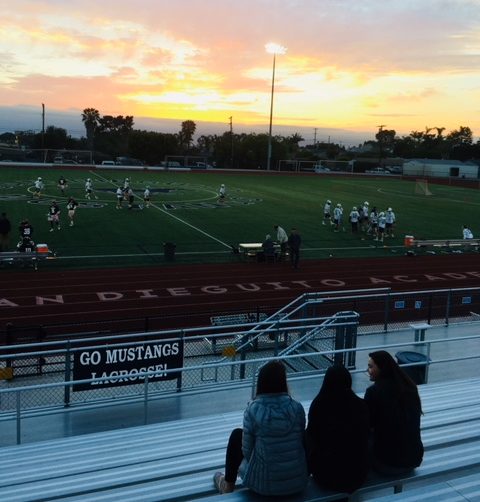 SDA Boys Lacrosse Makes a Strong Comeback
April 26, 2018
After a rough start put the boy's lacrosse team behind by three points, SDA came back in the last quarter to win 10-7 against Murrieta at a home game Tuesday.
The game started off quickly, with a goal by SDA junior Josh Woodworth in the first minute. Murrieta responded immediately, scoring four goals before the game was even five minutes in. SDA sophomore Ethan Dirkes scored towards the end of the quarter, bringing the score to 4-2. With four substitutes compared to Murrieta's sixteen, SDA was at a disadvantage.
By second quarter, Murrieta managed to pull ahead even further. After a goal by junior Will Farkas, SDA went into halftime down 3-6.
After a quick promposal from SDA senior Jose Uribe, the second half began. Third quarter was uneventful, showing only one goal from SDA junior Billy Bengoechea. SDA fans made themselves heard however, with enthusiastic cheering and cowbell clanging.
Fourth quarter was when SDA stepped up its game, scoring six goals. Woodworth carried the team, accumulating four more points for the Mustangs. His efforts were supported by Dirkes and junior Gavin Flowers, who each scored one goal. This brought the score to 10-7, and SDA to a decisive victory.
"For the first half the team was really bad, but we picked it up a lot in the second half and came from a three goal deficit to win by three," senior Brayden Feinberg said.
"[They] showed a lot of heart, played together as a team, and ended up winning by three goals," assistant Coach Jay Holguin said. While he felt that SDA should have won by a lot more, Holguin did acquiesce that the team had a few problems. He said, "We overcame a lot of adversity. We had injuries, we had penalties, we had lack of bodies, so we overcame a lot to win."
Thinking forward to the rest of the season, Holguin said, "It's going to be tough closing out. We've got guys hurt, we're thin on bodies, we're playing La Costa Canyon and Carlsbad and Point Loma who're doing well, so it'll be a challenge."
SDA's next game will be an away game against Carlsbad tonight.