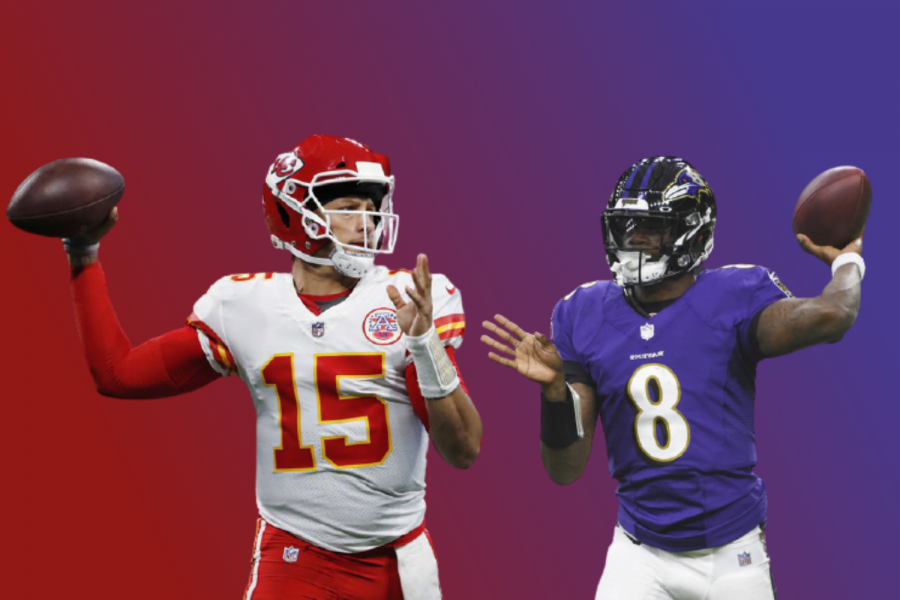 Photo Illustration by Taylor Lee, Photos by Associated Press
Football Is Back!
September 25, 2020
Amid the coronavirus pandemic, the National Football League (NFL) has successfully begun and looks to be promising. Since the beginning of the football season two weeks ago, no games have been postponed due to COVID-19.
Tying a record high, this year's football season has eleven teams with two wins and zero losses. Considering the fact that there are thirty-two teams in total and the maximum number of undefeated teams would be sixteen, this is truly a historic moment.
The list of teams with two wins consists of the Arizona Cardinals, the Buffalo Bills, the Baltimore Ravens, the Chicago Bears, the Green Bay Packers, the Kansas City Chiefs, the Las Vegas Raiders, the Los Angeles Rams, the Seattle Seahawks, the Pittsburgh Steelers, and the Tennessee Titans.
One of the more surprising teams on this list is the Chicago Bears, led by quarterback Mitchell Trubisky, for many people were uncertain about the consistency of their offense as it struggled greatly last year. Finishing with eight wins and eight losses last year and missing the playoffs, not many people had high expectations for them coming into this year.
In addition, the Las Vegas Raiders appeared to be extremely solid these past two weeks after having had an underwhelming record of seven wins and nine losses this past season. Carried by quarterback Derek Carr and second-year star running back Josh Jacobs on Monday Night Football on Sep. 21, 2020, the Raiders were able to pull off an upset win over the New Orleans Saints by scoring thirty-four points while giving up only twenty-four points in order to stay unbeaten.  
On the other hand, the Kansas City Chiefs and the Baltimore Ravens remain unbeaten to no one's surprise. Having won the Super Bowl last year, the skillful Chiefs are expected to have a great shot at getting another ring this season. Speaking of immense talent, the Ravens are led by the reigning Most Valuable Player, Lamar Jackson, who has been spectacular. The Chiefs are coming off of a tight win over the Los Angeles Chargers, while the Ravens led the whole game and easily won against the Houston Texans. 
There is much excitement for week three of football on September 28th at 5:15 p.m. PST when these two teams will square off head to head. As both teams possess high-powered, exhilarating offenses, this will be well worth one's time to watch this special game.