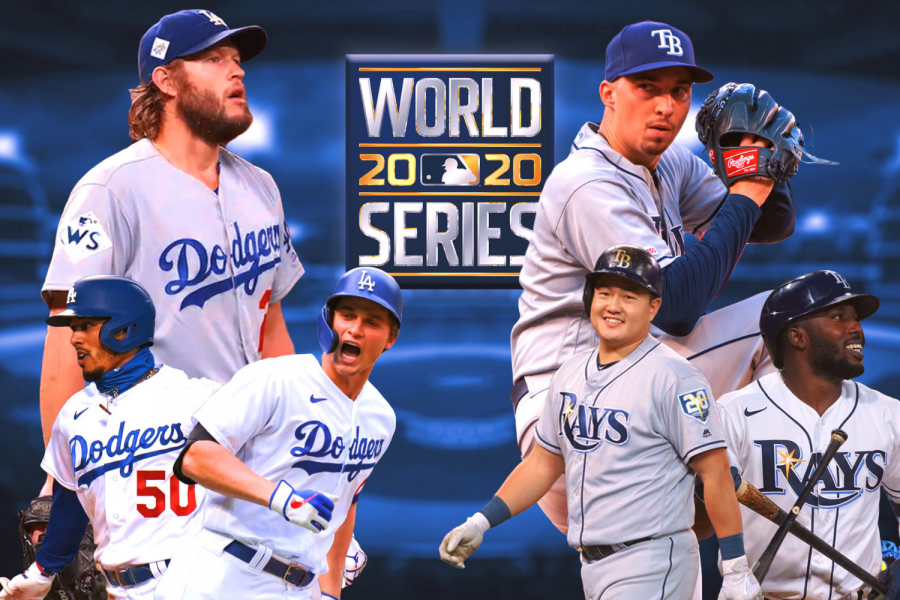 Show me the Money!
How the Dodgers and Rays were both able to reach the 2020 World Series despite major differences in their rosters
December 7, 2020
ARLINGTON, TEXAS — Just like the rest of 2020, this year's Fall Classic certainly was much different than other years. However, the reason why it is not so obvious. It's not because of the limited fan attendance, not because it is played at a neutral site. What makes this series so unique are massive differences in the payroll of each team's roster.
The Dodgers are one of the most iconic franchises in all sports, with all-time greats like Fernando Valenzuela and Sandy Koufax. They also play in one of the biggest markets in the country: Los Angeles, CA. In contrast, their opposition in the Tampa Bay Rays has only been around since 1998, making their second-ever franchise appearance in a World Series (2008). 
A big difference in market size comes just as big of a difference in available money to construct a roster. In 2020, the Dodgers had the second-highest payroll in the MLB, coming in just shy of $79 million under the MLB's prorated salaries rule. On the other hand, the Rays held the third-lowest payroll in the MLB at approximately $28 million. To put that into perspective, the combined salaries of Dodgers' starting pitcher Clayton Kershaw and outfielder Mookie Betts would account for 93% of the Rays' entire roster. 
So how did the Rays make it to that point? There is no short answer for why the Rays held the best record in the American League and won their second AL Pennant in a wild 60-game season. You could point to Rays' manager Kevin Cash as being one of the game's most innovative at his job, using the opener tactic, putting out a new lineup designed for the opposing pitcher every night, the electric pitching staff, or as many have pointed out, the team's willingness to buy into every decision made by the coaches and executives. Whatever they did worked, and they found themselves looking to upset a Dodgers team that had won their division for the past 8 seasons but never came out on top. It made for a great narrative and a highly competitive series. 
The Dodgers won the series four games to two, bringing home the team's first championship back to LA since 1965. After a dramatic walk-off win for the Rays in game four, it appeared that the momentum was on their side and that they were in the driver's seat to win the series. However, the Dodgers' roster's talent proved to be too much for the Rays' pitchers. With help from Corey Seager, who hit .400 on the series with two home runs and five RBI's, the Dodgers went on to win games five and six and finally were able to call themselves World Series Champions.