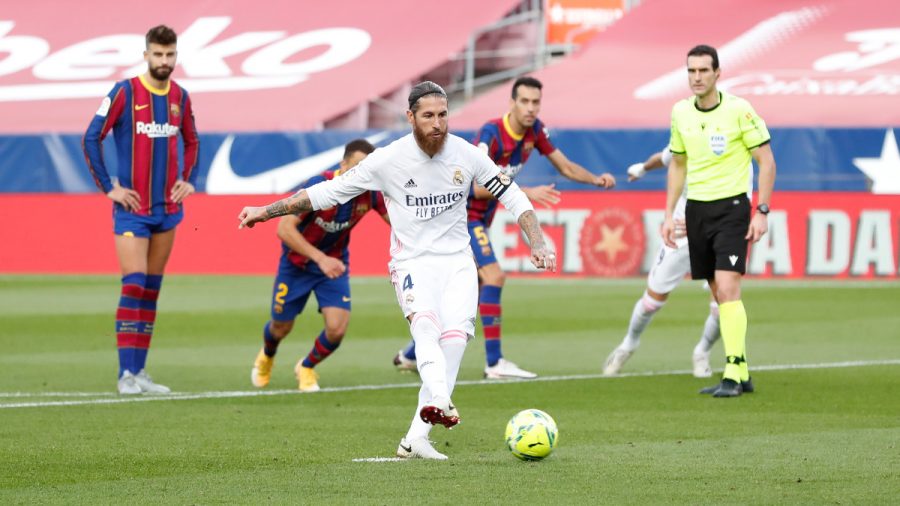 Real Madrid declares a 3-1 win over Barcelona at Camp Nou in the first El Clasico of the season
Real Madrid and Barcelona played with an unparalleled passion even without fans in the stands
December 22, 2020
The final score of the seasonal tradition, El Clásico, ended in a  3-1 win for Real Madrid after Luka Modrić tucked away a final shot in the last few minutes.
Within the first 5 minutes of the match, Real Madrid's 22-year-old Fede Valverde scored a well-placed ball in the top corner of the net, giving Real Madrid a dream start to the match. Shortly after, Barcelona responded with 17-year-old Ansu Fati tapping the ball lightly into the goal from inside the six-yard box. Madrid's early lead was quickly put to an end by Barcelona, demonstrating the lesson taught throughout sports history; no matter how much you're winning by, don't get too cocky. Approaching half-time, the two teams knew they had the win close within their grasp. 
As the second half started, both teams played long balls across the field and through balls to create goal-scoring chances. Quick touches one after another until a handball from Barcelona's defense is called, awarding Madrid with a free kick about 15 feet on the right-hand side outside of the box.
Then, off of the freekick in the 63rd minute, Real Madrid's captain Sergio Ramos fell to the ground and called out for a penalty. The referees quickly reviewed the replay and concluded that Ramos was fouled and given a  penalty kick. Being an experienced player, Ramos is no stranger to a penalty as he shot the ball into the bottom left corner of the goal, giving Real Madrid the lead. Tensions rise between the opposing teams as the clock is running out. Suddenly, a pass was played to Vinícius Júnior of Real Madrid, giving him a chance at a goal. As he approached the net, the goalkeeper tackled him, causing the ball to escape onto the feet of Luka Modrić, a Real Madrid midfielder known for his goal-scoring ability.
The goalkeeper challenged Modríc, but he quickly dribbled past him, showcasing his skill with the ball, and shot the ball into the goal with ease in the upper part of the goal, putting the last nail in the coffin for any chance Barcelona had at equalizing the score. The whistle blew, and the game concluded.
The coaches shook hands, and Zidane, the coach of Real Madrid, shared with the reporters, "I am happy for the players; I saw everyone united after [Luka] Modrić's goal, and I am happy because they are the ones who fight on the pitch. We have to be happy about today." Being a previous player for Madrid, Zidane recognized the hard work and intensity of play his players showed on the field. Even without 10,000 fans in the stadium cheering, the two teams played exceptionally well and left everything on the field.