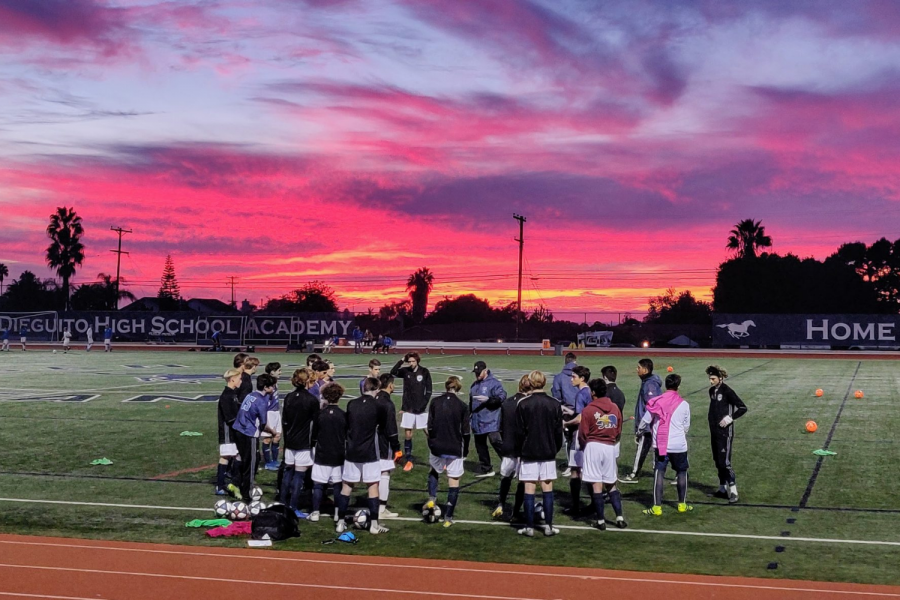 Photo courtesy of SDA Sports Foundation
San Dieguito coaches face difficult decisions amidst the pandemic
Although it is possible for some sports to be put on hold, SDA will still have some teams fighting for the Mustangs
January 18, 2021
With an upcoming sports season and no definite plan, the likelihood of every sport competing this spring is unlikely. Proposals from San Dieguito Academy's staff, coaches, and students are occurring to ensure that SDA students have a sports season, but there is no definitive answer. The SDA coaches agree that they know very little regarding the probability of a sports season, just like the students. 
Southern California is currently in the purple tier, also known as the widespread tier, according to the color-coded county tracking system. Sports like cross country and tennis will be able to participate in schools under this tier ranking legally. Certain sports environments and settings, like ones outside that, include minimal physical contact, will most likely be available to students.
On the other hand, the possibility of returning to regular sports season will pose many challenges, including less playing time, a shorter season, and the risk of the student-athletes' health. Coaches like Abrahamson prioritize students' overall health rather than returning to a sports season that would put the students' physical condition at risk. "There is a bigger picture than just hitting a tennis ball—a safe return will take cooperation and understanding for both players and parents," junior varsity tennis coach and physical education teacher Deb Abrahamson said. 
The number of players allowed on the courts will be minimal due to new regulations, causing the boys and girls teams to combine into one 24-player tennis team. "Experienced players who know the game, hitting skills, and understanding of the rules will be our priority as we have limited court space and can only take half as many players due to the co-ed format," varsity tennis coach Joe Tomasi said.
However, many SDA coaches long for the school practice schedule that built our teams' consistency and integrity. "We miss the after school practices, and the structured tennis gives us all every afternoon," Abrahamson said. SDA sports are a key part of what makes SDA's culture so rich, and the absence has been difficult for every regular sports fan. 
For more information on the possibility of a spring sports season, the San Dieguito Academy Athletics website includes upcoming dates for possible tryouts and potential starting dates for the beginning of the spring sports season.