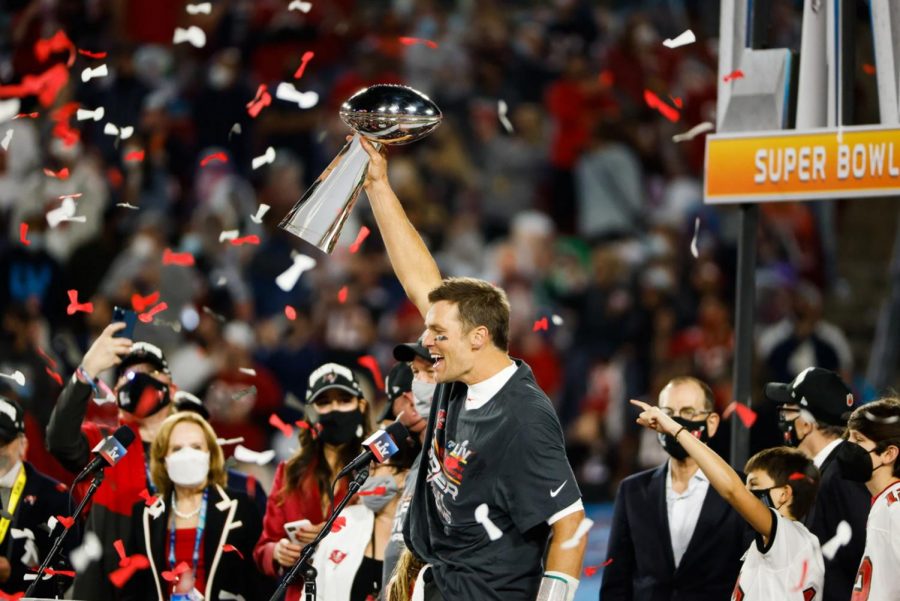 Super Bowl LV Recap: Brady and Bucs Reign Victorious
The Tampa Bay Buccaneers upset the Kansas City Chiefs in an overwhelming victory
February 10, 2021
Champa Bay, Champa Brady — call it what you want, but Tom Brady, in just one season, brought the Tampa Bay Buccaneers their first Super Bowl since 2003. Sunday's outcome wasn't what many expected. Analysts predicted a high scoring, narrow victory battle between the Chiefs and Bucs. However, Kansas City's offense could never find an answer to Tampa's defensive scheme. 
One of the game's biggest takeaways was the virtual absence of Kansas City wide receiver Tyreek Hill. In the Chief's regular-season victory over the Bucs, Hill tallied over 200 yards receiving 2 touchdowns in just the first quarter. On Sunday, they held him to 73 yards the entire game. Tampa identified him as the biggest big-play threat and completely eliminated him from the competition. 
Another key factor was that the Chiefs were missing both of their starting tackles. Quarterback Patrick Mahomes was under duress all night, scrambling sideline to sideline, trying to find an open man. Edge rushers Jason Pierre-Paul and Shaquil Barrett were relentless, contributing to a nightmare night for Kansas City. 
Another event that may have impacted Kansas City's performance was an off-the-field issue last week. Britt Reid, the linebackers coach and son of head coach Andy Reid, reportedly got into a car accident that put a five-year-old girl in critical condition. Andy Reid told police officers that his son had "two or three drinks" before he got into his car. Britt Reid did not travel with the team. Andy Reid was asked postgame if the accident affected himself at all during the game: "we had put in the game plan the week before," he said, "from a human standpoint, it's a tough one, but from a football standpoint, it's two separate things." 
On a different note, the Buccaneers made everything look easy during the game. They established a strong run-game early, which set up various play-action passes and long, time-consuming drives. Tight end Rob Gronkowski came on the receiving end of two of Brady's three passing touchdowns on the night, showing flashes of their days together in New England. 
Brady, once again, shined on the biggest stage, winning his seventh Super Bowl. Seven! The average NFL career is three years. The record for the most Super Bowls won by an entire franchise is six. It is truly remarkable to see the success he has had in his 21 seasons. Beginning as a sixth-round draft pick, with a draft report saying he is "skinny," "lacks arm strength," "lacks great physical structure," and being called "a system QB" during his years as a Patriot, to winning seven Super Bowls across two teams secures him a spot as the greatest football player of all time. 
Mahomes and the Chiefs open as the favorites to win next year's Super Bowl, while the Buccaneers come in at fourth. The game will be held in SoFi Stadium in Los Angeles. Now, football fans must wait through the long off-season. 210 days and counting until the 2021 regular season kicks off.
About the Writer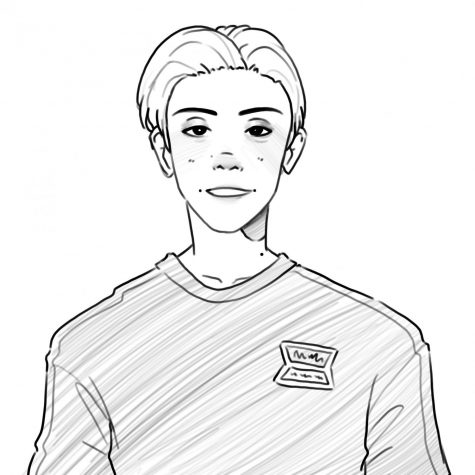 Jake Tabor, Spring Sports Editor
"Live with purpose. Expose your gift. Brighten your passion." - George Jeff