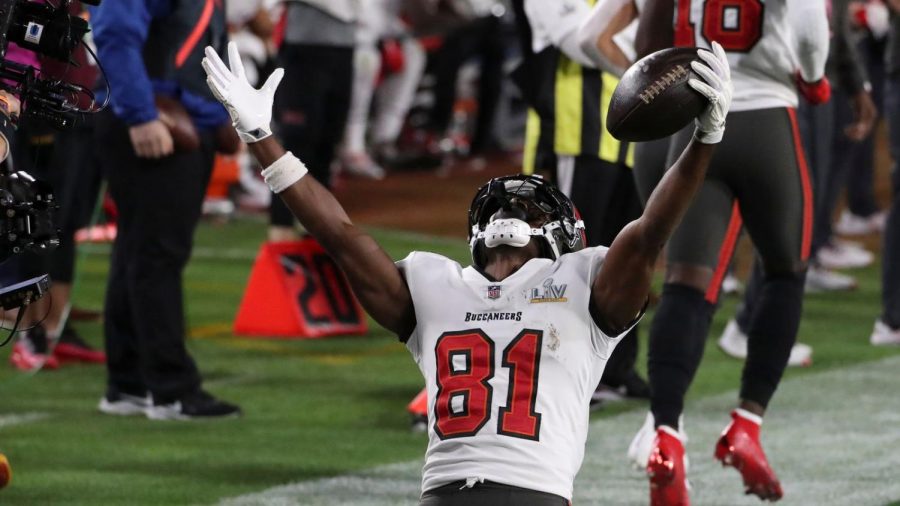 Photo courtesy of the Tampa Bay Times
The NFL's vaccination troubles
Following several high-profile vaccine controversies, the NFL is struggling to keep its players in check
December 19, 2021
When Aaron Rodgers was asked by a reporter about his vaccination status in August of this year, he replied with this statement: "Yeah, I've been immunized." Amid various NFL protocols to incentivize vaccination and protect players and fans, it was easy to take Rodgers at his word. What reason would there be to think otherwise? The NFL had it under control. 
Cut to early November. The season is reaching its climax when, out of the blue, Rodgers announces that he's contracted Covid-19. It's not just that, though; he also announces that he has been immunized, just like he said he was. The only problem? "Immunized" didn't mean "vaccinated"; it meant taking Ivermectin, an unproven drug claiming to prevent coronavirus. Surprise! 
Cue a social media firestorm and widespread controversy over the NFL's handling of their safety protocols. The NFL fines Rodgers $15,000, and he misses the Packers' game against the Chiefs. He then proceeds to claim that he's being hunted by the "woke mob", shows his foot to the camera on The Pat McAfee Show, and presents 500 pages of "research" to the NFL to appeal the fine. 
Well, that escalated quickly.
This is just one of several recent incidents regarding vaccination status in the NFL. Tampa Bay Buccaneers wide receiver Antonio Brown, as well as two of his teammates, were caught earlier this month with fake vaccination cards that were "issued" in counties that they didn't even live in. The NFL issued Brown a three-game suspension for the cards, but drew criticism for the response, with many seeing it as soft— not impactful enough to discourage other players from doing the same. 
Slot receiver Cole Beasley of the Buffalo Bills also went on the record saying, "I am not anti-vax or pro-vax. I am pro-choice," and is one of the more outspoken advocates of vaccine choice. "Every doctor I've gone to with questions begins every sentence with 'from what we know now,' which tells me we don't know enough," said Beasley.
It appears that some teams are siding more with player choice on the issue, meaning that players often are not encouraged by coaches or fellow teammates to reconsider their vaccine status. Regarding the Rodgers controversy, Green Bay Packers head coach Matt LaFleur has been hesitant to comment, repeatedly skirting questions about Rodgers' thoughts on vaccination, and teammates have come out defending Rodgers for his choice. Unvaccinated players have to obey additional precautions to protect themselves and their teammates, including wearing a mask more often and being restricted from meeting fellow players outside of games, and NFL players reason that with these restrictions in mind, players should be able to make their own choices about the vaccine. 
Nonetheless, NFL athletes and support staff have also spoken out against this culture. Washington Football Team head coach Ron Rivera especially has lamented the lack of action from his players. Rivera, who is immunocompromised following treatments for skin cancer, stated that he was "beyond frustrated" with the team's then-abysmal 50% vaccination rate (many NFL teams are now over 90% vaccinated). "We're not where we want to be," he said.
As the season moves onwards, it seems like players as a whole are trending towards vaccination. The few holdouts, though, are proving troublesome to the NFL. How will they choose to approach the vaccination issue as the pandemic continues? Will they even approach it at all? We'll just have to see.
Leave a Comment
About the Contributor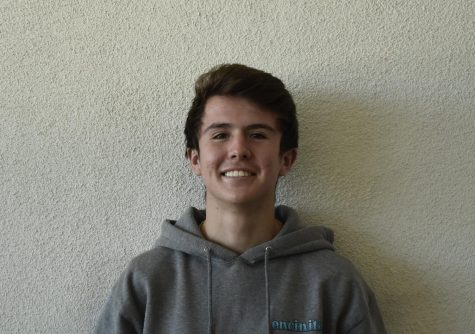 Evan Ballow, Opinions/Sports Editor