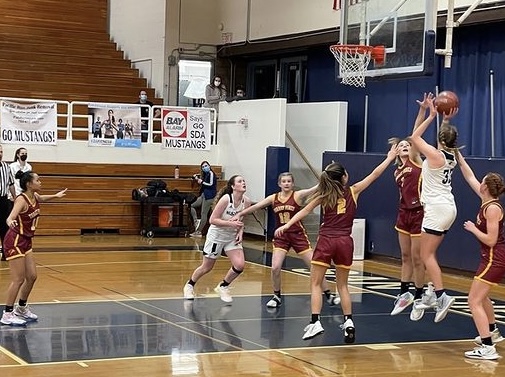 Photo Courtesy of SDA Girls Basketball
Piper Ligotti breaks all-time girls basketball records
A look into SDA girls basketball team captain Piper Ligotti's latest achievements
January 25, 2022
San Dieguito Academy girls basketball team captain and senior Piper Ligotti has had a historic season, breaking the all-time scoring record not once, twice, but three separate times. She has also set the all time record for steals, with over 264 steals since starting her varsity basketball career as a freshman. Ligotti has been playing basketball since second grade, originally starting with recreational teams until sixth grade, where she started playing club at San Diego Relentless.
Ligotti discussed her thoughts so far about the team, saying, "We have done pretty well this season. Because we won the Division 2 Championship last season, we have been moved up to Division 1, so some of our competition has been tough, but we are holding our own!" The team boasts a strong record of 6-7 considering the marginal increase in level of play. The team is very close and Ligotti considers them a family. They even have a shared photo album where they, according to Ligotti, "periodically upload funny photos of people if they are being particularly entertaining." Besides basketball, Ligotti plays golf in the fall. She was named captain for the team last fall season, but she doesn't compete in tournaments or compete locally away from SDA. She finds that "it helps clear my mind and is so vastly different from basketball that it provides a sort of calm outlet for my stress."
The girls basketball team also lost a player towards the end of the first semester. Senior Ruby Willard graduated early and has signed to play Division 1 basketball at Elon University. As a junior, she averaged 16.9 points per game, 8.6 rebounds per game, and 2.4 steals per game among other stats. We have yet to see her senior year stats, but she plays an impressive game and was a big part of the girls team at SDA. Despite losing Willard, Ligotti looks at the positives for the team, stating that they have to "reevaluate what it means to contribute to our team and push ourselves to greater lengths in order to make up for what we lost." 
Ligotti herself is a huge asset to the team, and has committed to play Division 3 basketball at Carnegie Mellon University. "Getting recruited to Carnegie Mellon was a wild experience. All recruiting starts usually with emails from the athletes to the colleges, and that is what I did." Ligotti would send mass emails to colleges she was interested in and wait for them to contact her. Her original goal was to go D3 at a highly academic school, so when Carnegie reached out, she said she was ecstatic. She had a lot of outreach and communicated with several other colleges, but she eventually ended up adding Carnegie to her big recruiting trip out East. Ligotti talked about the "positive energy and excitement" while meeting some of the team members and felt that the school offered her everything she wanted. Ligotti ended her statement about Carnegie saying, "I verbally committed once I came home, and applied Early Decision and ended up getting in."
When asked about her recent games where she broke the scoring record, Ligotti responded, "I didn't know there was a single game scoring record, let alone what it was. So when I scored 35 [points], I was surprised that it was that big of a feat." She spoke about being proud of herself but felt she had more to give. Incredibly, she backed up her 35 point game with a 36 point game the following night, which, in the words of Ligotti, "proved to myself that I am my own biggest competitor." The girls team has six more league games before playoffs, finishing up with El Camino home tonight, La Costa Canyon away on Friday, Torrey Pines away on Tuesday 2/1, Mission Vista at home Friday 2/4, El Camino away the following Tuesday 2/8, and finishing off with Carlsbad at home Friday, 2/11. 
Congratulations on the great season so far, and we can't wait to see how the team does. 
Leave a Comment
About the Contributor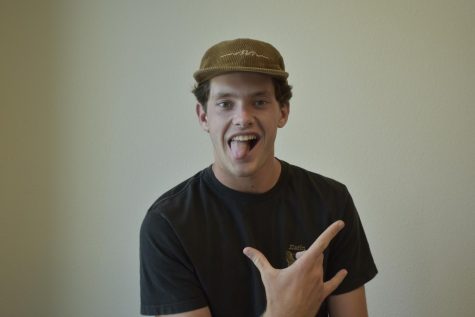 Tucker Oien, Sports Editor
I didn't take 2 QB's in 6 rounds this year