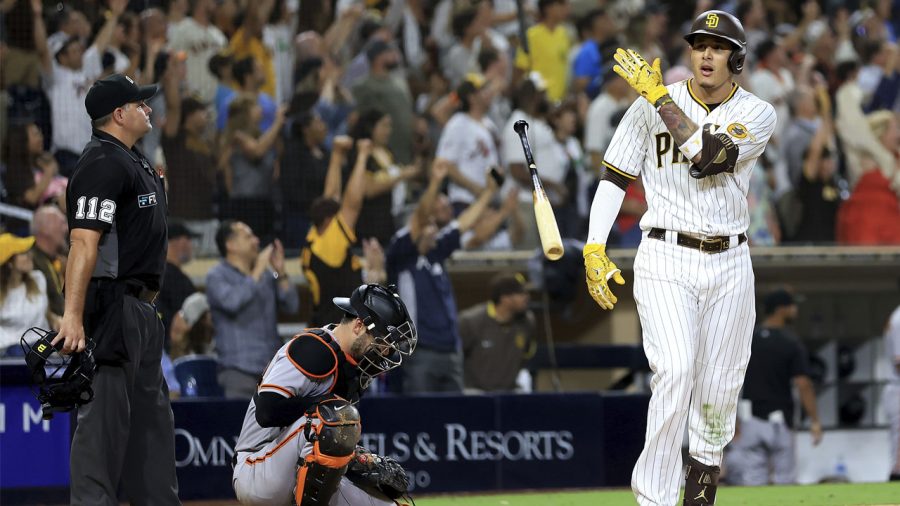 Padres Roller Coaster Playoff Chase
The Padres have had a wild season so far, and if you can't keep up, we've got you covered.
September 21, 2022
After a disappointing end to last season, the Padres headed into the regular season with a solidified roster and some new young talent. However, they were missing their biggest piece in Fernando Tatis Jr. who was unavailable with a wrist injury. There is no official timeline on his return yet.
Despite the loss, the revamped Padres got out to a hot start through all-star 3rd baseman Manny Machado who had a .386 average(hitting percentage out of 1.000) in the opening month of April, ranking third in the majors. Another huge reason for their success was their pitching, especially their starting pitchers. Starters Joe Musgrove and Yu Darvish threw a stellar 2.79 ERA(earned run average) through June. The Padres were getting hot, in fact so hot that they claimed first place in the NL West Division for the first time in 12 years; and things were just getting started.
Going into the summer many players who were viewed as role players started to emerge as stars, such as Ha-seong Kim, Jurickson Profar, and Trent Grisham. At this time the Padres had a record of 41-24, the best start in franchise history. However, quickly after their division push, the Padres went into a slump, especially against division rivals such as the Dodgers and Giants. The lineup relied too much on Machado, who led the team in runs batted in. However, the biggest problem was with stranding runners. For a stint of time it seemed as if Manny was the only offense.
Through July, he had the most RBI's with runners in scoring position on the team and it wasn't close. The Padres were about 10 games behind the Dodgers, and Tatis is expected to return soon. Needing some offensive firepower, Padres owner A.J. Preller decided that this was San Diego's time, and he went all in at the trade deadline. The Friars first acquired Brewers' closing pitcher Josh Hader for Taylor Rodgers, and a prospect a day before the deadline. This trade was interesting because Hader and Rodgers are both considered to be some of the best closers in the league, but were both in their own slumps. In an interview soon after Hader's arrival, he was asked about his recent struggles, and he responded with "what I have come to find out is that I've been tipping my pitches" and "I've worked to re-adjust that." in his interview with Marty Caswell.
Padres fans were ecstatic about the trade, but the excitement had only begun. On the day of the deadline, the Padres sent Luke Voit, Mackenzie Gore, CJ Abrams, and more prospects to the Nationals to acquire the 23 year old, World Series Champion, 2x All-Star, Home Run Derby Champion, Juan Soto and switch hitter Josh Bell. BLOCKBUSTER. Analysts are calling it one of, if not the biggest trade in Major League Baseball  history. Later the Padres also acquired all around infielder Brandon Drury, and this was not just a little "add on" to the bigger moves. Drury has been having an amazing year at the plate, especially against offspeed pitching. When he was traded, he had the most home runs against offspeed pitching than anyone in the MLB.
Not just the Padres, but all of San Diego Sports were electrified, as we all entered a new era of Padres baseball. In their debut against the Rockies, Soto and Bell walked to help load the bases for Drury, who turned on a slider to hit a grand slam on his first pitch as a Padre. The energy at Petco Park was electric as they welcomed the newcomers to Slam Diego. It's looking up for the Friars, Manny is having an MVP caliber season, Tatis is coming back, and the lineup is revamped and strengthened.
Unfortunately the fun was cut short when it was revealed that Fernando Tatis Jr. had received an 80 game suspension for testing positive for clostebol, a forbidden substance in a medication he used to treat ringworm. He will be unavailable  until early next year, and the Padres took a huge blow. The Padres currently have the last wild card spot, and will most likely improve. Nevertheless, Padres fans everywhere have some exciting years ahead of them, including this postseason.